Helping Businesses Be the Best They Can Be
Exploring new and better ways of working that will bring improvements in the shortest time.
Learning how a challenge that has kept you awake at night has been solved by others.
And knowing that you're building a strong company not just for yourself, but as part of your commitment to Ireland's competitive future.
The key to it all is SHARING. A coming together for the good of not just one, but for all. At the Irish Centre of Business Excellence, our Members know that power is gained by sharing knowledge, not holding on to it. Because knowledge only reaches its true potential when we pass it on – and watch it multiply. Without a doubt, some of the most successful companies in the world are those who share, collaborate and practice free exchange of ideas.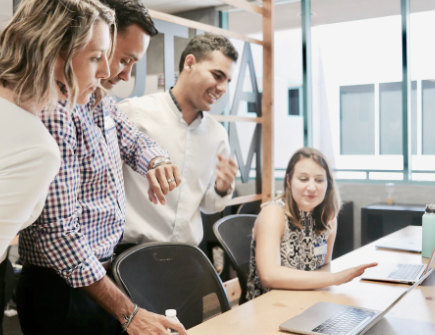 This 'willingness to work together' is in the DNA of the ICBE, and has seen us help set, support and share best business practice, skills and knowledge for all our Members within the manufacturing and service industries.
Through events, customised funded training, Benchmarking Visits to exemplary companies and our unique Call for Support process we facilitate continuous improvement, spread innovations and collectively solve problems for the good of all.
In the long history of humankind those who learned to collaborate most effectively have prevailed.
Who are our Members?
We are a forum of industry experts, and rich strategic alliances – with businesses, agencies, corporates and organisations working together for the same thing. Success. From top local companies and entrepreneurs, to multi-nationals… from pioneering research institutions to academic leaders…. ours is a network that brings greatness together in the name of progress and knowledge.
What Do We Do?
We bring you knowledge through events and seminars
We help you secure your competitive edge through funded training.
We connect you to the experiences of others in the know - through visits to Member companies.
We help you get known and 'get-to-know' - with key networking events.
We link you in with the local research landscape, keeping you at the cutting edge of technology and data-analytics.
We empower your people, processes and your technology through advanced training and learning programmes.
What is our Purpose and Vision?
We are committed to enhancing our members' competitiveness and growth, through the sharing of business excellence.
To be the business-excellence and knowledge-sharing network of choice for the manufacturing and services sectors in Ireland. In all that we do, we aim to maximise our members' success, while contributing towards Ireland's growth and competitiveness.
What is Our Mission?
We promote and develop business excellence through benchmarking, knowledge-sharing forums, and training and development.
We facilitate members to access solutions to organisational challenges. Our Call for Support process is an efficient, confidential and fast community-based process which uses our entire business network as a resource.
We service the developmental and transformational needs of member organisations and individuals – to improve capability and achieve sustained business success.
We expand and further develop strategic experts, and form alliances with relevant agencies and institutions for the benefit of our members.
We work with senior leaders on problem-solving and promote Irish business excellence on a global platform.
What are Our Values?
Transparency
As a networking organisation, our sole focus is on the power of shared knowledge. Our only mandate is to bring business intelligence together, and our Members embrace this spirit of openness and honesty.
Generosity
All of our Members are defined by their generous approach - giving of their expertise, time and knowledge and gaining the same in return.
Absolute Trust
Our ethic of sharing is made possible because of the confidentiality, integrity and trust of all Members, and the network as a whole.
Collaboration
We know that we are always better together - and pass this benefit on to all Members.
By attending the Mentoring Networking Event I have been saved about six months work as I will definitely use a lot of the methodology shared. Thank you for the great information.