Highlights from ICBE International Conference 2022 - 19th October
Accelerating Innovation & Collaboration | Facing the Future Together
Facilitated by Anton Savage
Thanks to all who attended our recent conference and for the fantastic feedback.
Thanks to the excellent speakers and to Anton Savage who did such a great job as MC on the day.
Just a reminder that all those registered can still access the full recordings of the conference on the platform by
CLICKING HERE
We in ICBE exist to foster collaboration and knowledge sharing - it's in our DNA. It was lovely to see so many of our speakers re-emphasising the need for collaboration and cooperation - that's what ICBE is all about".
Eamonn Murphy, Managing Director ICBE
Opening Panel | Exploring how Cross Sectoral Collaboration is the Driver of Innovation
This thought-provoking opening discussion brought together:
Martin Cotter
Senior VP Industrial and Multi-Markets, Analog Devices
Marie Moynihan
Senior VP Global Human Resources Services, Dell Technologies
Regina Moran
Senior VP, Head of Global Delivery Unit, Fujitsu Technologies
Opening Panel Overview
It was a very insightful and frank discussion about the big questions facing our members today:-
How to drive innovation through cross sectoral collaboration. They spoke about how in Ireland we are very good at this, but that we need to be better at putting ourselves forward at a global level, telling the stories of our success and taking the lead at the highest level. [This is very much our mission at ICBE. We have been promoting and facilitating a culture of collaboration over the last 25 years and are now focused on supporting our members in highlighting their successes on the global stage.]
They spoke about the changes in the way we need to lead our organisations post-covid and discussed the new skills that every leader now needs. They also spoke about the new opportunities that have arisen - leaders can be located anywhere and we can take leading roles globally, if we have the confidence to put ourselves forward.
They discussed the drive for sustainability, emphasising that it is now on the boardroom agenda of every organisation. They spoke about the importance of showing your progress and sustainability credentials and why it is essential for it to be an integral part of the organisations strategy.
They also discussed current challenges around energy, infrastructure, talent and finance.
Section A | Environmental, Social, Governance
In this section we were joined by members:-
Mark Stafford
Sustainability Manager with Danone Food Company
James O'Regan
Senior Manager, Facilities/Utilities & Sustainability with Gilead Sciences
Paul Walsh
COO EMEA with CIM, a data analytics company specialising in this area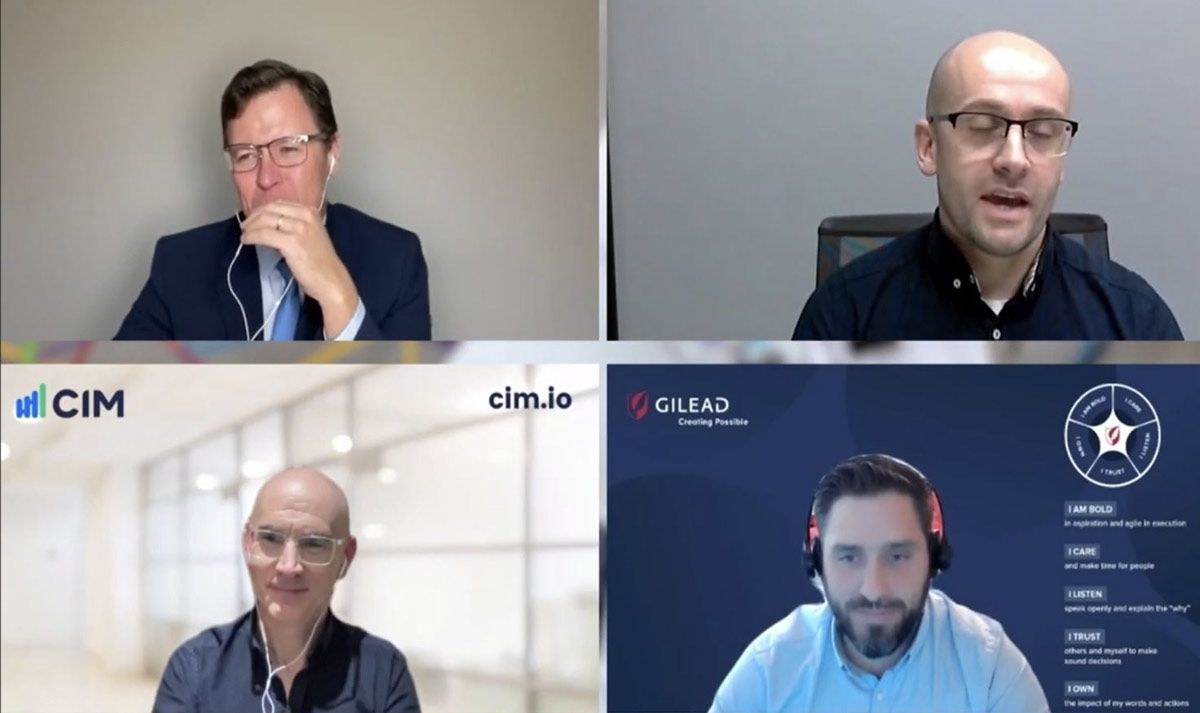 Section A Overview
They shared tangible examples of their sustainability journeys and how they achieved their impressive results in terms of reduction of carbon emissions. They spoke about the challenges they faced, what they learned along the way, the benefits and what they expect as they continue that journey into the future.
Both Mark and James confirmed that a strong Continuous Improvement culture in their organisations was critical to their achievements so far and has helped to enable them implement sustainability within their organisations.
They also both spoke about the importance of transparency and credibility so as not to be perceived as greenwashing and described the various bodies they work with to provide full visibility.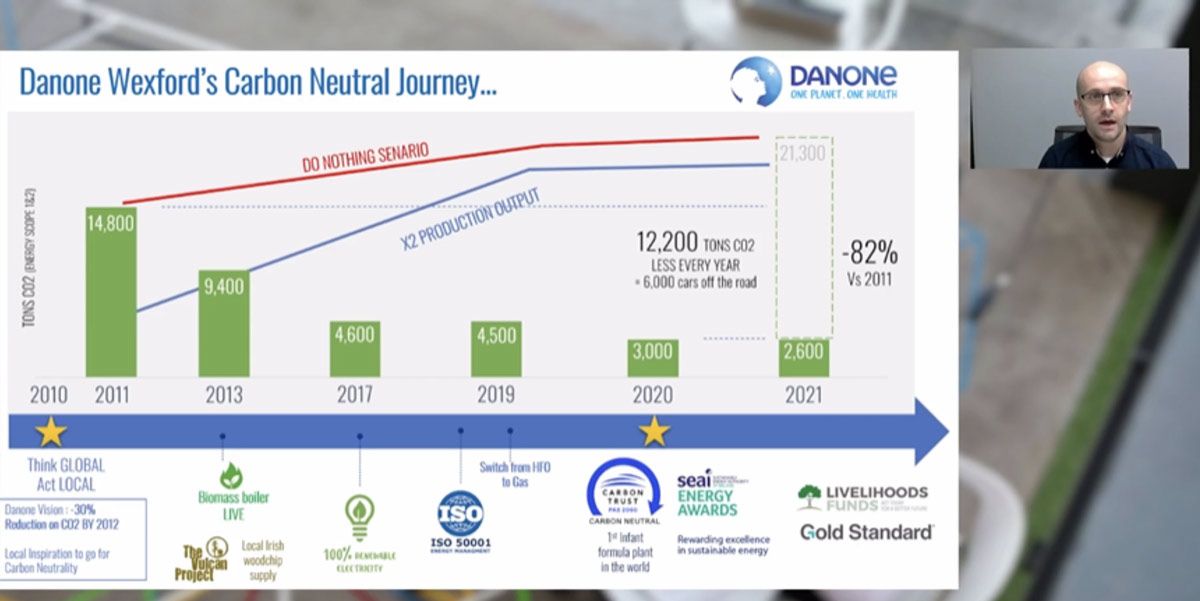 "We have to be ambitious in terms of CO2 targets ... we need to go beyond the targets as a company and as a country .... we have to shoot for the stars"
Mark started this section by sharing Danone's sustainability journey, which is across 4 pillars - climate, water, circular economy and water.
He detailed the progress made by their site in Wexford, which has achieved an impressive reduction of carbon emissions since they began the journey in 2010.
He spoke about the importance of credentials and visibility and how they have achieved that in their journey so far.
Mark then spoke about how current challenges resulting in their targets being shifted this year, with energy security now being a key focus. He confirmed that with increased energy costs, pay back on projects is better but that energy security is now as important as CO2 reduction benefits and cost savings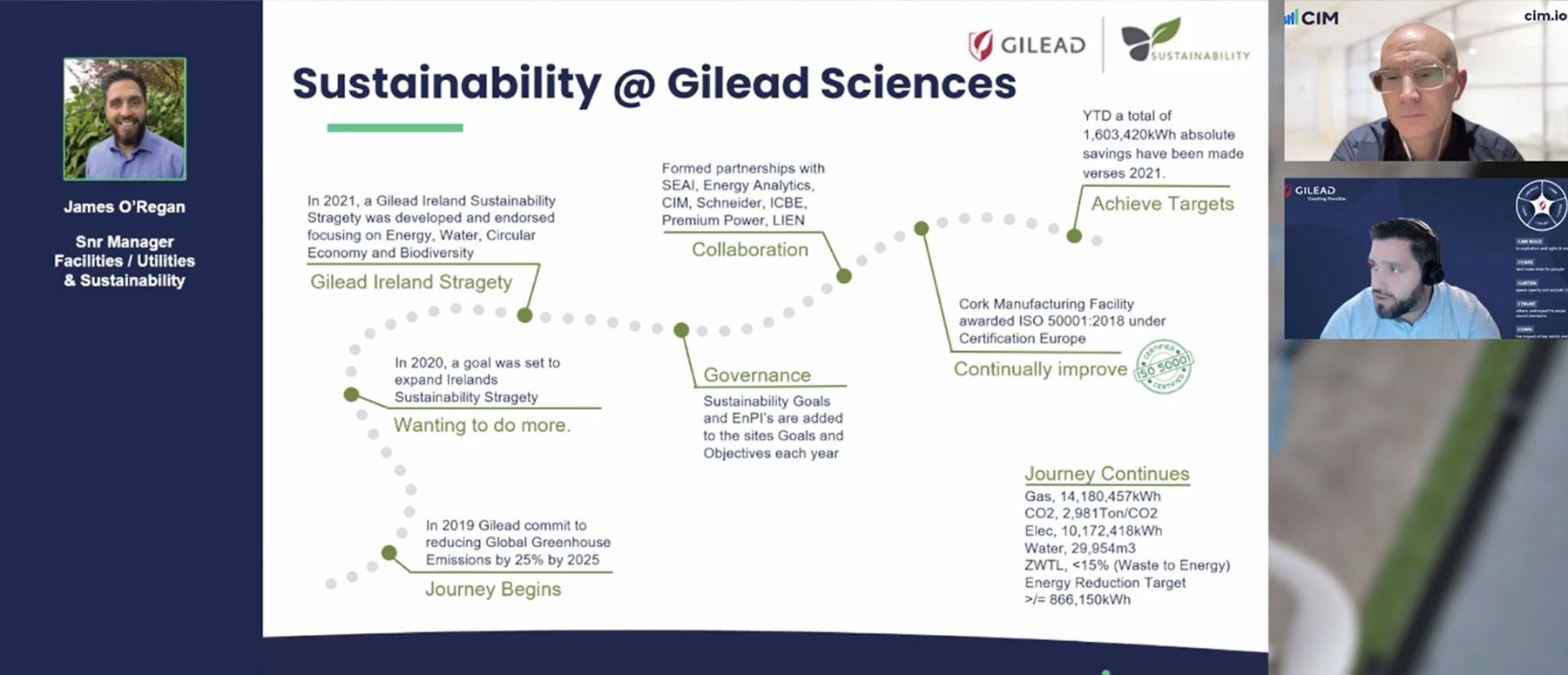 James spoke about their sustainability journey at Gilead Sciences, including their use of data to help inform their journey, with help from consultants CIM to achieve this- "If you can view it, you can manage it and reduce it"
He spoke about their key challenges and then went through their achievements to date and how they achieved them. He described their impressive results in terms of both CO2 and cost savings, as well as achieving a changed mindset among their teams. He spoke about quick wins with excellent practical examples.
Speaking about the benefits of using a data driven approach to deliver on aggressive CO2 reduction targets, Paul, from CIM spoke about how identifying the troublesome energy areas on a large site can cause finger pointing, but data eliminates the arguments. Data gives the real picture.
Section B | Digital Manufacturing Collaboration
In this section we were joined by:-
Claude Costelloe
Director, National Advanced Manufacturing Centre
Barry O'Sullivan
Board member at IDA Ireland and Chair of the Shannon Estuary Economic Taskforce for an open and interesting discussion on digital manufacturing collaboration.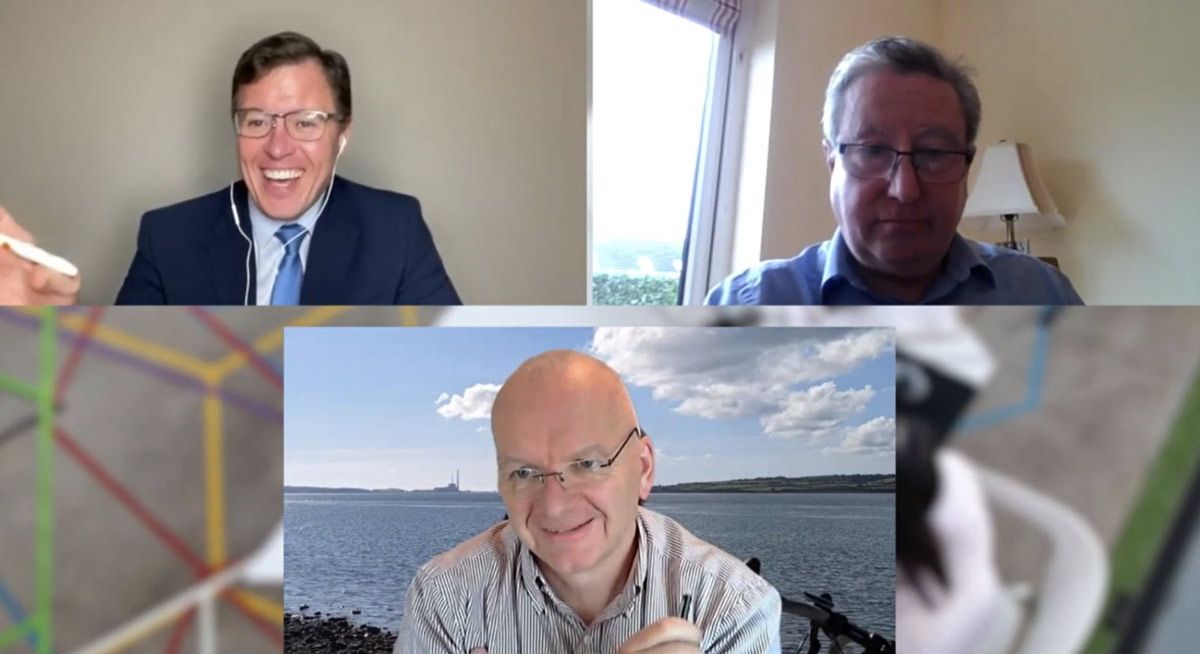 Section B Overview
Claude introduced the AMC, which is due to open in the next few weeks. The AMC is part of IDA's strategic initiative to support manufacturing competitiveness. He described how they will collaborate with manufacturers to help them adopt and deploy digital capabilities to improve competitiveness, across costs, quality, agility and the supply chain.
He described the AMC as a centre that shows manufacturers what's possible – what advanced high end digital manufacturing looks like - but presented in a modular format so they can adopt and deploy it at the pace that suits them. He discussed the various services of the AMC and the benefits they will bring to manufacturers.
Claude emphasised that they will offer lots of practical support. Manufacturers can encounter lots of challenges in terms of the deployment of technology and the AMC will advise, guide and support manufacturers along the journey, including offering a training service for their workforce.
Barry spoke about Ireland's positioning in terms of digital manufacturing and described it as a "new space which is evolving quickly". He provided insights on where manufacturers in Ireland are now in terms of digital manufacturing, where we are going and how to get there.
He referred to the importance of collaboration and knowledge sharing across sectors in Ireland in this fast-moving area and described how manufacturers should reach out to the community of support with centres like AMC and organisations such as ICBE there to help manufacturers progress their digital manufacturing journey.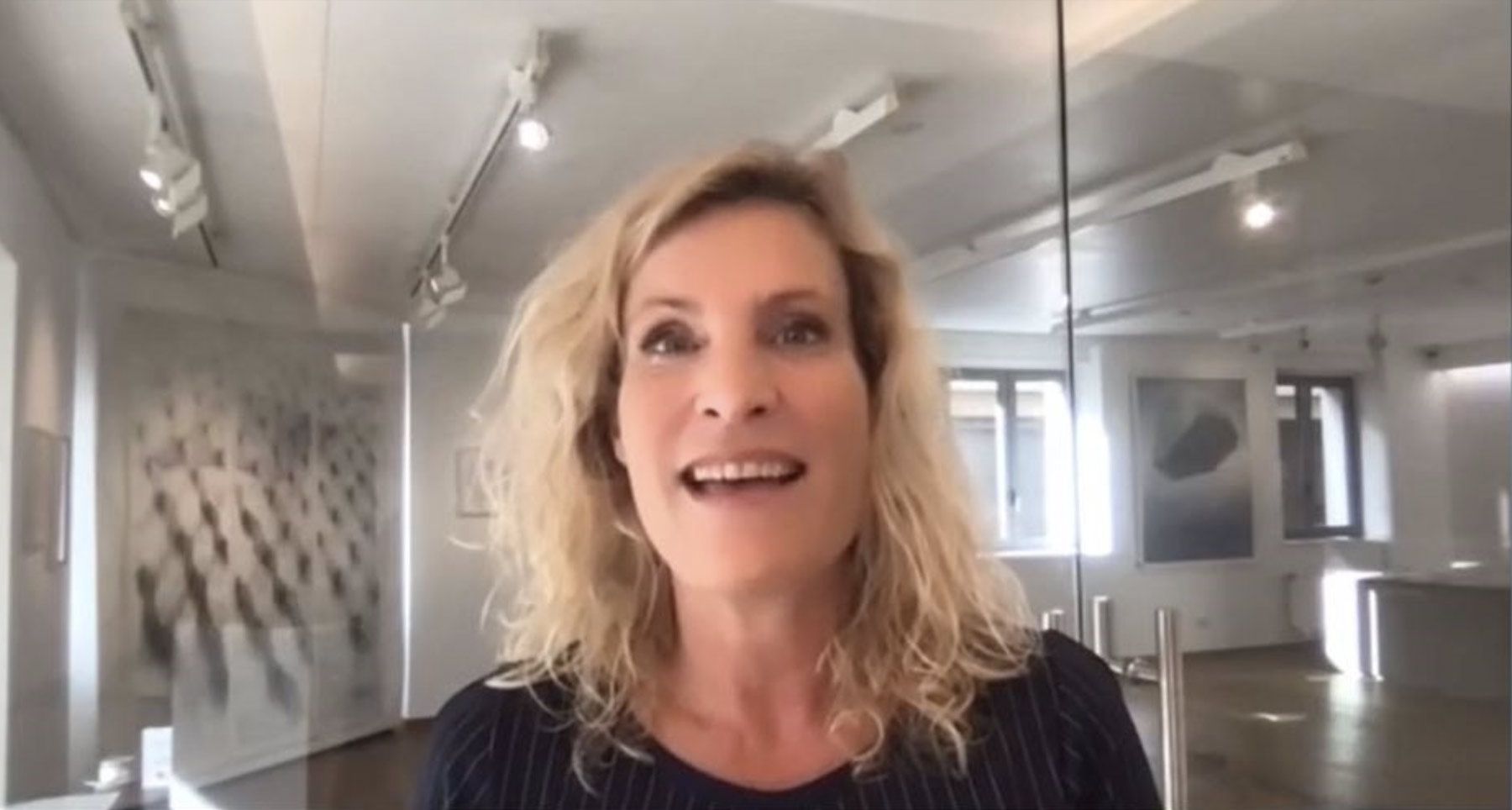 "The distance from imagining the future to actually creating it has never been shorter. All the technology, all the data is there - we can have this precision age"
Keynote Speaker | Liselotte Lyngsø, Futurist and Founding Partner of Future Navigator
Liselotte inspired our audience with her insights into what we can expect in the not-too-distant future. She encouraged us to approach the future with an open attitude - looking at possibilities as "interesting and exciting" to avail of the opportunities they will offer.
She emphasised that the future is about doing things differently, not just in terms of digital advancements but about our behaviour. She demonstrated lots of interesting examples and how to look at them as possibilities for your own organisation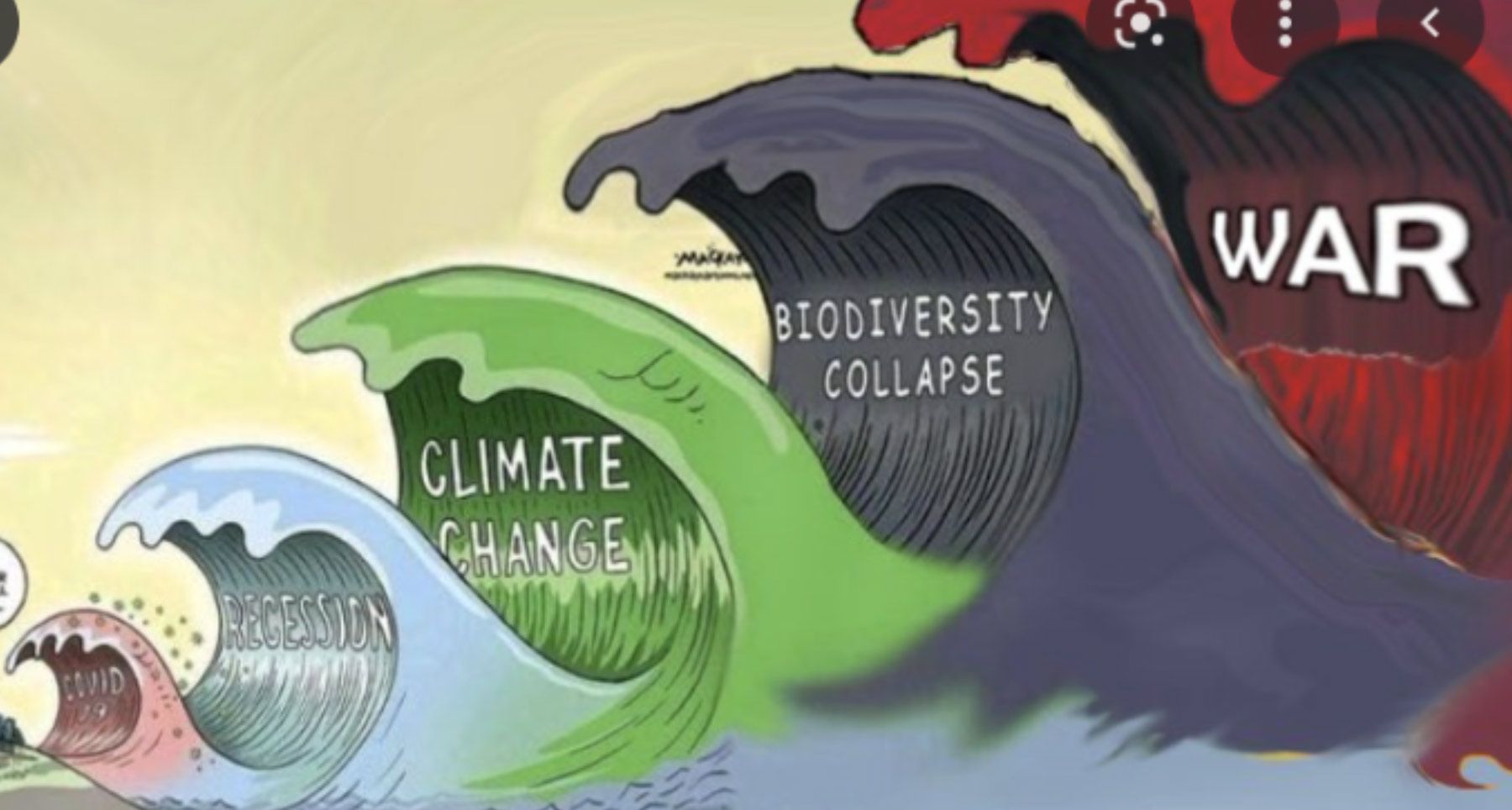 Waves of Transformation
She showed us how having a futurist mindset allows you to be open and able to transform your company for the future and be ahead of the game. She emphasised that openness to collaboration and knowledge sharing allows for a greater flow of ideas, accelerates innovation and allows for continual transformation.
She spoke about the waves of transformation, that there is a lot of noise out there at the moment and that being able to distinguish what is important to focus on is essential to allow your organisation to move forward quickly.
She spoke about the impact on organisations of evolving trends, multigenerational trends, accelerating democratisation trends and the movement towards the Age of Precision, driven by data and AI.
Section C | Leadership
"Leadership skills that are now needed have changed ...managing employees in a more holistic way, being self-aware and actively seeking out feedback..... being consistent in our approach and especially being authentic"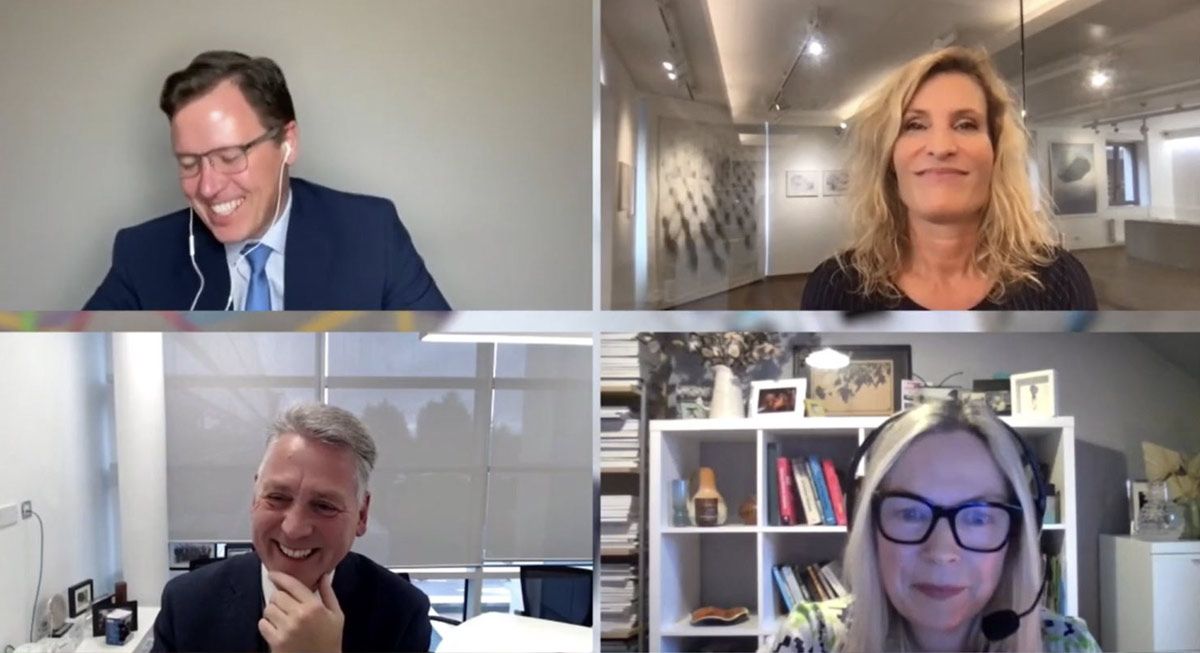 Section C Overview
Our final section of the day, started with a very interesting presentation by Dr Sarah MacCurtain, Kemmy Business School, UL. Sarah revealed key findings from the extensive Leadership research carried out by the team in UL in conjunction with ICBE Skillnet.
She was then joined by Colin Curran, VP of Human Resources, Teleflex Incorporated and Liselotte Lyngsø, Futurist and Founding Partner of Future Navigator to discuss how leadership is evolving and what is important for the future.
Sarah described how the research was designed to explore the challenges, risks and opportunities for leadership today and tomorrow and involved 80 senior leaders across sectors from around Ireland who participated in focus groups as well as 63 in-depth interviews.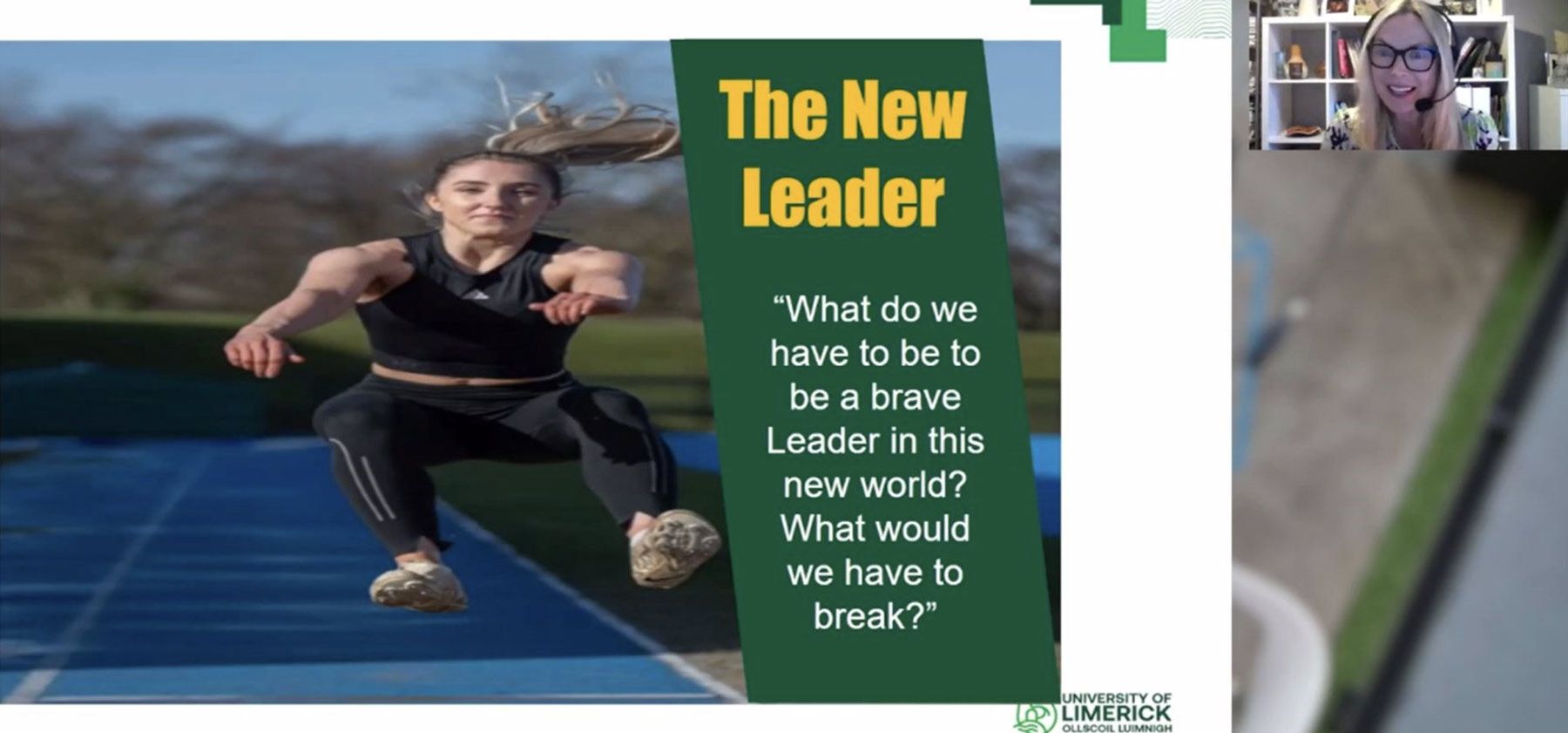 She revealed key findings from the research with most leaders confirming that leadership is a journey, with learning coming from different sources but that collaboration with their networks and learning through being supported to go outside their comfort zone, being essential.
A concerning finding, however, relates to leadership succession. Today's Leaders identify a lack of willingness in their Direct Reports to 'step up to lead'. This phenomenon has been reported globally but is equally strongly evidenced in these findings.
Colin Curran emphasised the importance of leaders being authentic "The Irish are very good at being authentic, we can talk to anyone at all levels in the company, this is one of our strengths. ... People want to know you - your strengths and your values, and for you to apply them consistently ". He spoke about the need for leaders to be continually developing. With everything moving so quickly, leaders now need to be able to adapt quickly.
Liselotte also spoke about the importance of an authentic workforce where employees dare to be who they are and provide honest feedback to their leaders. She also spoke about the importance of trust by leaders in their workforce is more important than ever in this new world of work.
Some of the excellent feedback we received:
"The ESG/Danone and Keynote/Futurist speakers both held my attention with their tangible examples. All topics were relevant."
---
"Liselotte - Her enthusiasm for her topic was infectious and brought a well-rounded perspective to the Conference. It connected changes in the digital/Generation Z focused world to areas that may not be familiar and provided an accessible glimpse into the future."
---
"All excellent, the guest speaker, futurist Liselotte Lyngsø really enlightened me to the speed of change that is currently happening in all aspects of digital technology."
---
"Strong knowledgeable speakers, very good flow and interaction between speakers and participants through use of the Chat box. Anton was an excellent compere/facilitator on the day"
---
"Well done – a thought provoking day"
"A very interesting and insightful conference"