About Skillnet Ireland
Skillnet Ireland is a business support agency of the Government of Ireland, with a mandate to advance the competitiveness, productivity and innovation of businesses operating in Ireland through enterprise-led workforce development.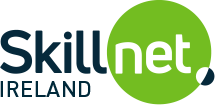 Training and upskilling are key elements in keeping businesses competitive – both nationally and globally. At the same time, a commitment to skills growth has a substantial positive impact on the career advancement of our country's workforce.
As Ireland's only business support agency dedicated to workforce development, Skillnet Ireland puts businesses in control of their own learning journey, offering significant benefits:
Collaboration at its best
Taking a networked and partnership-based approach to learning, Skillnet Ireland partners with over 50 industry bodies either sectoral or geographically based harnessing Ireland's open culture of collaboration for the benefit of all.
Cost Savings
Skillnet Ireland works on a system of joint investment: businesses access training by combining a Government grant with their own contribution – greatly reducing costs and other barriers.
Relevance
Since businesses lead the learning process, Skillnet Ireland programmes are extremely relevant and grounded in business practicality.
Best Practice
The EU, OECD and ILO have all recognised Skillnet Ireland internationally as a best practice model.
Visit the Skillnet Ireland website for more information
ICBE Business Excellence Skillnet
From tapping into your team's emotional intelligence, to crafting your presentation skills. And from optimising performance through better time management, to understanding how to coach and mentor others – this Skillnet delivers key and vital training modules.
The ICBE Business Excellence Skillnet is designed to help companies develop the knowledge, skills and qualifications of their team Members. This is achieved by increasing their access to skills development opportunities and encouraging ongoing professional development.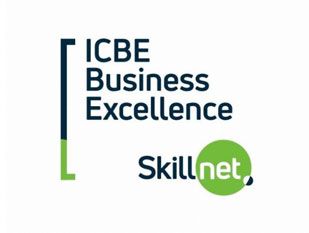 The training focuses on enterprise-led training that is both efficient and effective, while providing networking opportunities. The goal is to help companies develop their workforce skills and talent, helping them navigate political, technological and competitive changes and challenges ahead.
Types of training included in this Skillnet are:
Effective Communications
Frontline Managers
Present & Express with Confidence
Emotional Intelligence
Effective Trainer
Time Management
Team Lead & Supervisory Skills
Management Development
Unconscious Bias
Resilience Workshop
Technical Writing
Train the Trainer
Certificate in Professional Coaching Skills
Finance for Non-Financial Managers
Warehousing & Logistics /QQI Level 6
Coaching for Leaders
Foundation in HR Analytics
Applying & Embedding HR Analytics
Emerging Managers
Performance Management
EQ-I Certification
Executive Coaching
PMP
PM Fundamentals
PM Essentials
Mindfulness
High Performance Leadership
Personal Effectiveness
Facilitation Skills
MS Office programs
Practical Productivity using MS Outlook
Complete Presentation Skills
ICBE Business Excellence Skillnet
Providing impacted workers with new skills and pathways into Ireland's Customer Experience (Cx) and technology sectors
About the Programme
Skills Connect will provide impacted workers with new skills and pathways into Ireland's Customer Experience (Cx) and technology sectors, which are significant employers in the Mid-West and play a vital role in Ireland's economy.
The Digital Skills Accelerator will support impacted workers from the hospitality, retail and aviation sectors. The initiative will be delivered through industry partnership and collaboration between ICBE Business Excellence Skillnet, ICBE Advanced Productivity Skillnet and Aviation Skillnet.
Programmes delivered through Digital Skills Accelerator will include ICT Conversion, Data Science (entry level), Project Management, Cx Professional and DevOps Practices including Software QA, Code Management, Cloud Development and Azure. The partnership of three Skillnet Networks will also provide mentoring, career assessment and over 60 industry placement opportunities in Software, Data Management and Cx.
The Skills Connect programmes will provide participants with specialised and technical skills that are in demand by Cx and technology businesses based in the Mid-West.
To learn more about the DIGITAL SKILLS ACCELERATOR programme and to register an expression of interest
Skills Connect: Supports for those seeking employment
ICBE Business Excellence Skillnet, ICBE Advanced Productivity Skillnet and Aviation Skillnet support the workforce development needs of businesses within the Customer Experience (Cx) and technology sectors in the Munster region. We offer a small number/selection of industry-led and fully funded programmes for people who are not in employment, subject to eligibility criteria and the availability of places. If you are currently not in employment and wish to upskill or reskill, click here for details of Skills Connect training for people seeking employment.
Further details of Skills Connect and the eligibility criteria can be found on the Skillnet Ireland website.
ICBE Advanced Productivity Skillnet
This comprehensive Skillnet is committed to promoting innovation and productivity though industry-led training for the manufacturing and service sectors in Ireland. Advanced methodologies and technology are key focus areas.
Focusing initially on Lean, Six Sigma and Shingo, this Skillnet has expanded to include key technologies and methodologies from automation to data analytics and additive manufacturing.
Types of training included in this Skillnet are:
Six Sigma Yellow Belt
Six Sigma Green Belt
Six Sigma Black Belt
Innovation Yellow Belt
Innovation Green Belt
Lean Manufacturing Tools
Lean Applied to the Office Environment
Training Within Industry (TWI)
Job Instruction Training (JIT)
Job Methods Training (JMT)
Standard Work
Value Stream Mapping (VSM)/ Material & Information Flow (M&I Study)
Systematic Problem Solving
Systematic Problem Solving
Hoshin Kanri/Strategy Deployment
People/Human Side of Lean
Lean Certification Programme
Tiered Meetings & Leadership Coaching
High Performance Mentoring for Advanced Productivity
Shingo Prize Workshops
Supply Chain Management
Lean LAB Training
Good Manufacturing Practices (GMP)
Lean Lite Workshop
Certified Quality Engineer (CQE)
Automation/Robotics Programme
Lean Mentoring & Coaching
Production Planning & Control
8 Step Problem Solving
Developing High performing Mentors for CI Projects
Strategic Leadership Training
Design of Experiments (DoE)
Team Collaboration Process and Tools
Employee Engagement
Information / Data Capture, Analysis and Use in Manufacturing/Supply Chain
Using / Application of Data to make Business Decisions
Data Visualisation
Enterprise Excellence & Strategy Deployment
Continuous Improvement Workshops
Agile Work
Aviation Skillnet
The global aviation leasing space is a dynamic one, and the skills needs of the industry are always evolving. Responding to this need for upskilling is the Aviation Skillnet – specialised, dedicated training for companies of all sizes in the aviation and aerospace sector.
Aviation Skillnet supports the sector in maintaining and enhancing Ireland's position in aviation. The training offered acts as a key driver of the success of the sector through the knowledge, expertise and innovation of those employed within the industry. We are dedicated to constantly building on this – to further develop the breadth and depth of expertise available and improve our global competitiveness.
Types of training included in this Skillnet are: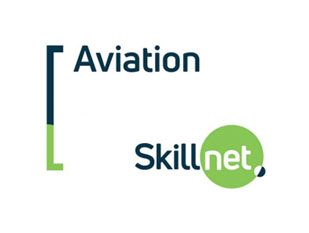 Aviation and Aerospace
Continued Airworthiness and Aviation Management (CAMM) Level 9
Aircraft Records Level 7
Continued Airworthiness Management Organisation (CAMO Specialist Diploma
Level 7)
Part 21 Design (Level 7)
B737 Gen Fam
Part 145 – Understanding Maintenance
A320 Family (CFM) & (IAE) B2 Differences Practical
A320 (IAE) B1 additional Engine Theory
IS0 9001- 2015 Internal Auditor QMS
Part 21 Subpart J Design Organisation Approval
Embraer 190 Cat C Gen Fam
Fuel Tank Safety Phase 2
ATR 72 212A 500/600 series
Management Development
B777 Gen Fam
A330 Gen Fam
Project Management
Communicating and Influencing
Aviation Finance Leasing
MBA (with Aviation elective)
Post Graduate Level 9 Specialist Diploma in Aviation Leasing and Finance
Export Customs and Compliance Management
Aircraft Acquisitions and Finance
Certificate in Aviation Level 6
Senior Negotiation Skills
Aviation Fundamentals
Aircraft Appreciation
BBS Aviation Management
Fundamentals of Commercial Contracts
Future Leaders Programme
Employment Law
Finance for Non-Finance Managers
Certificate in Aviation Finance and Leasing
Aviation Fundamentals
Capital Markets & Funding
Executive Education Leasing Programme
Financial Risk Management
Accounting with technical elements for Lease Agreements
Delegation Skills