About Skillnet Ireland
Skillnet Ireland is a business support agency of the Government of Ireland, with a mandate to advance the competitiveness, productivity and innovation of businesses operating in Ireland through enterprise-led workforce development.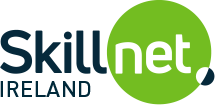 Training and upskilling are key elements in keeping businesses competitive – both nationally and globally. At the same time, a commitment to skills growth has a substantial positive impact on the career advancement of our country's workforce.
As Ireland's only business support agency dedicated to workforce development, Skillnet Ireland puts businesses in control of their own learning journey, offering significant benefits:
Collaboration at its best
Taking a networked and partnership-based approach to learning, Skillnet Ireland partners with over 50 industry bodies either sectoral or geographically based harnessing Ireland's open culture of collaboration for the benefit of all.
Cost Savings
Skillnet Ireland works on a system of joint investment: businesses access training by combining a Government grant with their own contribution – greatly reducing costs and other barriers.
All private sector businesses of any size, including sole traders, that are based in the Republic of Ireland are eligible to undertake part-funded upskilling with Skillnet Ireland.
Relevance
Since businesses lead the learning process, Skillnet Ireland programmes are extremely relevant and grounded in business practicality.
Best Practice
The EU, OECD and ILO have all recognised Skillnet Ireland internationally as a best practice model.
Visit the Skillnet Ireland website for more information