Lease Compliance in respect of Insurance in an ever-changing world | 90 minute session with Wilson Consulting Ltd
Back to Training
Date:

Date to be Decided

Time:

Times to be Confirmed
Lease Compliance in respect of Insurance in an ever-changing world | 90 minute session with Wilson Consulting Ltd
90 minute session with Wilson Consulting Ltd
We are pleased to offer to our Aviation Skillnet members, an in-house session from Wilson Consulting Group,  who offer specialist insurance training and consulting services for the Aircraft Leasing industry.  With more than 12 years' experience working with global top 10 lessors, the company works closely with their clients on all aspects of their insurance management.  Please share with the relevant teams in your organisation.  For details on session costs and available dates please email maeve@icbe.ie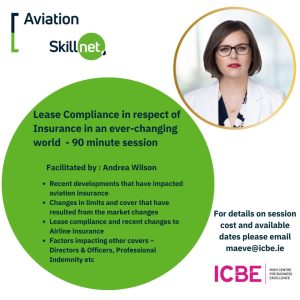 Session Overview
With 20% Aviation Skillnet funding available , this 90 minute session is available as either a virtual programme or can be delivered in person to your organisation.  It is suitable for teams dealing with all aspects of insurance buying from finance, legal or contract management.
Recent developments that have impacted aviation insurance

Sanctions imposed on leasing
Sanctions imposed on insurance/reinsurance

Changes in limits and cover that have resulted from the market changes:

Hull War cover
Sanctions wordings
Territorial exclusions
Lease compliance and recent changes to Airline insurance
For aircraft stuck in Russia – why have claims not been paid
Factors impacting other covers – Directors & Officers, Professional Indemnity etc
Q&A
About Wilson Consulting:
Wilson Consulting Group is directed by the steady hand of Andrea Wilson. Using her many years of industry experience and expertise and extensive network of contacts, Andrea is on a mission to make Wilson Consulting Group the leader in niche skill provision to the aircraft leasing industry and apply this knowledge and expertise for clients with a functional skill shortage. Since leaving Trinity College, Dublin with an Honours Bachelor of Business Studies, she qualified as a Certified Insurance Practitioner with The Insurance Institute of Ireland in 2012. With a work history including five years working in the Insurance team at AWAS (now a part of DAE Capital) and seven years working at BOC Aviation as VP and head of Insurance, building the insurance function from the ground up and handling matters relating to; airline lease negotiation and compliance, aviation and non-aviation insurance buying, Andrea is a recognised leader in her field.
Prior to starting in the aircraft leasing industry, Andrea ran the back office operations for various start-up enterprises.
As a founding member and current steering committee member of PropelHer, Andrea has a deep understanding of the challenges facing the aircraft leasing industry and is committed to finding solutions to those challenges. PropelHer is an association of aircraft leasing professionals that aims to; provide a forum to exchange ideas, opinions and experiences around topics relevant to the aircraft leasing industry; motivate women in the industry to strive for advancement in their careers; create networking and learning opportunities; and enable the professional and personal development of its members.
She is also an Ambassador for Airlink; a not-for-profit organisation that responds to disasters around the world and provides insight, guidance, and fosters best practices within the disaster logistics and response sector.
For details on session costs and available dates please email maeve@icbe.ie