Sustainable Leadership for a Post-Digital Age – A unique study on Leaders in Ireland today
Back to Training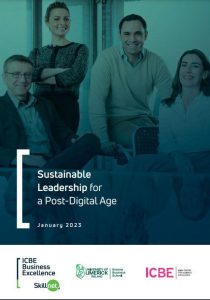 Full Report on Sustainable Leadership
Sustainable Leadership for a Post-Digital Age – A unique study on Leaders in Ireland today.
Keynote Speaker | Carolan Lennon, Country Leader at Salesforce Ireland.
While we cannot predict the future, we can shape it.
Understanding the realities of leadership in Ireland today, the perceptions, the practices and the most important skills needed to succeed, is vital to sustaining Ireland's current Leaders through these extremely challenging times. Importantly, through their collective experiences and wisdom, we can better form the next generation of Ireland's leaders.
ICBE and Kemmy Business School are delighted to invite you to the launch of this unique study on Leaders in Ireland today.
This research captures the zeitgeist of these unprecedented times. Leaders are navigating these new frontiers with powerful honesty. Findings show fundamental changes occurring in the way leaders now lead. A more holistic, human-centred perspective is prevailing, showing all the hallmarks of a new era of sustainable leadership emerging in Irish organisations.
To discuss further, please join us at the CONFIRM Smart Manufacturing Centre on;
January 18th at 12.00 pm to 2.30 pm
| | |
| --- | --- |
| 12.00 | Reception with buffet lunch |
| 12.30 | Welcome Address ICBE and Skillnet Ireland |
| 12.45 | Research Highlights Dr. Sarah Kieran |
| 13.15 | Keynote Speaker Carolan Lennon, Country Leader, Salesforce Ireland |
| 13.45 | Panel Discussion facilitated by Dave Griffin, CONFIRM |
| 14.15 | Tour of CONFIRM |
| | |
PANEL Discussion | Carolan Lennon, Country Leader, Salesforce Ireland, James Herbert, Director Global Strategy, Boston Scientific, Dr Sarah Kieran, Assistant Dean KBS Academy, and Dr Nuala Ryan, Researcher and Lecturer, KBS. Facilitated by Dave Griffin, CONFIRM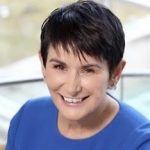 Carolan Lennon is Country Leader at Salesforce Ireland. She was appointed in July 2022 and is responsible for leading the company's 3,000+ workforce in Ireland.
Prior to joining Salesforce, Carolan served as CEO of Eir, one of Ireland's leading telecommunications companies. She has held a number of senior positions in the telecomms, technology and insurance industries. Carolan has a BSc from University College Dublin and an MBA from Trinity College Dublin.
Carolan is a member of the Board of Flutter and was previously the SID on the AIB board. She is also a proud patron of Special Olympics Ireland. She has a passion for promoting corporate sustainability and advocating for equality in the workplace.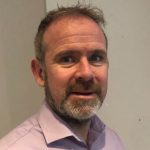 James Herbert is Director of Global Manufacturing Strategy for Boston Scientific. Boston Scientific is a leading  manufacturer of medical devices for use in various interventional medical specialties. They have a global footprint with 15 manufacturing locations and operating in 115 countries.
Prior to taking up  this role in 2021, James held numerous positions in manufacturing and supply chain. Prior to joining Boston Scientific, James worked at Guidant Medical and Intel. James has a B.Eng. from University of Limerick and an MBA from Carlson School, University of Minnesota. James is also a board member of Irish Centre for Business Excellence.
VENUE: Confirm, University of Limerick Digital District, Unit 2 Park Point, Dublin Road Castletroy Limerick V94 C928
Places are limited, so please register your interest now.
For further details please contact vivienne@icbe.ie