Huge congratulations to our Managing Director, Eamonn Murphy Prof. (Emeritus) who has been inducted as Shingo Academy Member at the European Shingo Conference 2023. The award was presented by Ken Snyder, Executive Director, Shingo Institute.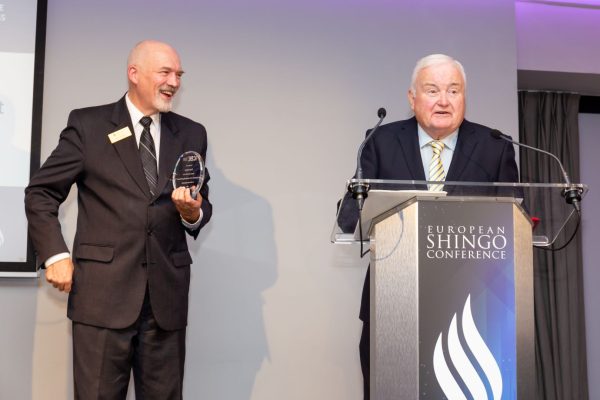 The decision of the Shingo Academy to confer Life Membership on Prof Eamonn Murphy was a well-deserved recognition of Eamonn's contribution to the development of world class manufacturing systems in Ireland. It is also recognition of ICBE's mission of sharing and promoting Business Excellence in industry in Ireland over the last thirty years.
In his acceptance speech Eamonn dedicated his award to Walter Shewhart of Bell Labs who invented Statistical Process Control and the Plan, Do, Check, Act methodology. Shewhart is rightly recognised as the grandfather of Total Quality Management.
Members of the Shingo Academy exemplify a lifetime commitment to organizational excellence, which is evident by their recognised corporate and thought leadership. When individuals are inducted into the Shingo Academy, they become ambassadors for the Shingo Institute. They are asked to speak at conferences, to provide company tours, to offer advice, and to research topics related to the Shingo Model.
About ICBE Managing Director, Eamonn Murphy Prof. (Emeritus)
Eamonn Murphy is professor emeritus of quality and applied statistics at the University of Limerick. He was the first person to be awarded both the Excellence in Teaching award (1997) and the Outstanding Achievement in Research award (1999). He has published more than 70 refereed publications and was recognized for an Outstanding Paper Award by IEEE (2001).
His paper entitled "Total System Reliability: Integrated Model for Growth and Test Termination" influenced a significant revision of both the British Standard (BSEN 62429) and European Standard (CENELEC EN62429). The revised standards include considerable material copied directly from this paper and two other related publications.
Professor Murphy has supervised 20 PhD and more than 40 students at master's level and received a European Excellence Award for Research Supervision (2000). In 1998, he initiated the European exchange program for PhD students of quality and reliability. In 2009, Eamonn initiated the Professional Doctorate at UL, the first program of its kind in Ireland.
He fully subscribes to Stern's (1991) principle that a commitment to learning at work is as much a statement of values, an assertion of the kind of society that people will want to live in, as an economic imperative. It implies a preference for a more inclusive society. Eamonn was principal investigator for the Programme for University Industry interface, which successfully amended the national policy for Modular Accreditation Program (MAP 2005) that led directly to the Micro Credential programs so common in industry today.
In 1998, he established the Irish Centre for Business Excellence. ICBE is currently partnering with institutions in five other EU member states to evaluate the impact of artificial intelligence on the labour market.
Shingo Rising Star awarded by Shingo Institute to Judith McMullan posthumously.
The Shingo Rising Star, a new recognition category for developing organizational excellence professionals was awarded to Judith McMullan, who sadly passed away unexpectedly earlier this year. Her family received her award in her absence.
"The Shingo Rising Star award is a new recognition that highlights individuals who, though early in their careers as organizational excellence professionals, have already made significant contributions to the Lean community," said Ken Snyder, executive director of the Institute. "Recipients show their dedication to Lean principles as they significantly impact their organizations in a variety of ways by advocating the Shingo Model and the mission of the Shingo Institute."
About Shingo Rising Star Recipient Judith McMullan
Judith joined Abbott in 2011 and held various roles within operations, quality, and strategic sourcing across the Diagnostics, Vascular and Nutrition divisions. At the time of her death in August 2023, Judith was the director of program management. This position gave her responsibility of the Shingo program across Abbott Nutrition Supply Chain (ANSC), which includes 14 manufacturing sites across Europe, Asia, and North America. In that role, Judith supported the ANSC enterprise through the Shingo challenge process, integrating systems and tools by driving the right behaviours.
During Judith's tenure as global excellence manager, four ANSC sites received Shingo Prize recognition. This achievement is testament to the expert guidance and coaching support that Judith provided to the sites. She was widely acknowledged across multiple Abbott Divisions as a true leader and current and future star. Beyond Abbott, she was greatly respected in the Shingo/OpEx community in Ireland and globally. Judith was generous in recognizing the contributions of those she worked with, exemplifying the Shingo Guiding Principle of Respect Every Individual. She also lived the principle of Lead With Humility, always seeking to learn from others and share her learning with all who asked." Credit : https://shingo.org/shingo-institute-to-induct-shingo-academy-members-and-shingo-rising-star-at-the-shingo-european-conference/