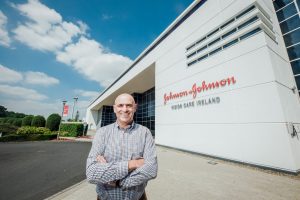 In the latest in our member profile series, we spoke to John Lynch, Plant Leader of Johnson & Johnson Vision Care Ireland UC, (Johnson & Johnson Vision Care Ireland), which is based in Limerick and is part of the broader Johnson and Johnson operation in Ireland that employs 5,000 in total in 10 locations. 
Describe the role and significance of the Johnson & Johnson Vision Care within the global Johnson & Johnson business. 
Founded in 1886, Johnson & Johnson is one of the world's largest and most broadly based healthcare companies, with headquarters in New Brunswick, NJ and more than 130,000 employees across the world. 
Operating in Ireland since 1935, Johnson & Johnson is one of Ireland's leading employers with a workforce of more than 5,000 highly skilled and motivated people across 10 locations, spanning five counties. Johnson & Johnson's operations in Ireland touch all aspects of human health, from consumer products to pharmaceuticals, medical devices, and vision. The workforce in Ireland supports the company through research and development, engineering, manufacturing, quality, sales, marketing, commercial and IT roles, to name but a few.
Johnson & Johnson Vision Care Ireland started operating in Limerick in 1996 with 60 employees. This year we are celebrating our 25th anniversary in Limerick.  In that time the company has gone from strength to strength and is now one of the largest contact lens manufacturing facilities in the world, with a workforce of 1,600 people. 
Our aspiration at Johnson & Johnson Vision Care Ireland is to bring improved eyesight to people around the world through the research, development, and manufacturing of new medical device technologies. The manufacturing site in Limerick is one of Johnson & Johnson's large-scale manufacturing operations for the contact lens business and plays a fundamental role in supporting Johnson & Johnson's mission to change the trajectory of eye health around the world.  
In Limerick we manufacture strategic products in Johnson & Johnson Vision Care's product portfolio including the company's fastest-growing daily disposable lenses​ and a range of beauty lenses, largely for the Japan and Asia Pacific markets. Our team in Limerick serve customers and patients in markets outside the US with our current portfolio of products and are also working to deliver new breakthroughs in contact lens technology for the future.
A number of other Johnson & Johnson teams are based on the Johnson and Johnson Vision Care Ireland Limerick Campus. Tell us more.
Yes, the Advanced Technology Centre is responsible for end-to-end design, development & implementation of automated manufacturing equipment for existing & new manufacturing processes
The Software Development Centre specialises in the development of solutions for Johnson & Johnson's Supply Chain Enterprise Resource Planning (ERPs), CRM (Salesforce), Digital Solutions, Data and Analytics and Manufacturing Systems. 
The Surgical Vision Supply Chain provides world class products for patients needing cataract surgery, lens replacement surgery or dry eye & glaucoma treatment products. The Surgical Vision team, comprising of various Supply Chain, Finance & Quality functions are working together to serve patients by delivering eye health equipment team are setting a new healthcare standard in Limerick by evolving the global supply chain to consistently improve customer experience to change the trajectory of eye health worldwide. 
How does the plant benchmark against best practice within the wider corporation?
Johnson & Johnson Vision Care Ireland continuously benchmarks against best practice both inside and outside the Johnson & Johnson corporation.  This is an integral part of our DNA and something that we take great pride in.  We are fortunate to have the backing of the wider Johnson & Johnson community in our endeavours to continuously improve, but it is incumbent on us to utilise the structures and expertise to truly benefit. 
By looking, both internally and externally, at performance and practice we seek opportunities to continuously improve everything that we do.  These range from initiatives on enhancing our Talent Pipeline to Cutting Edge Technology, Environmental Protection to Industry 5.0.  
J&J is firmly committed to continuous professional development of its people from the time they join the organisation. Tell us about your graduate, apprenticeship and on-going professional development programmes and your partnerships/collaborations with third level institutions.
Over the last 25 years it has been the talented workforce, the incredible support of the community and the network of suppliers and partners here in the Mid-West that have supported our business and helped us to deliver to our billions of customers around the world. 
The Johnson & Johnson Vision Care Ireland operations in Limerick have had a significant impact on the county and the mid-West Region over the years. Johnson & Johnson Vision Care Ireland provides 1,600 jobs in the areas of manufacturing, quality, engineering, and support functions. The company has a strong focus on career progression through continuous education. 
From certificate to doctorate level programs, Johnson & Johnson Vision Care Ireland has supported 300+ employees in developing skills in new technologies since 2016. To strengthen the early-career talent pipeline, Johnson & Johnson Vision Care Ireland leads an industry-wide apprenticeship and graduate program, locally sponsoring 30+ trainees per year. Over the years we have built strong relationships with the University of Limerick (UL) and Limerick Institute of Technology (LIT) which have been invaluable. 
J&J is committed to advancing women in science, technology and engineering. How you do this in practice?
Johnson & Johnson is a known leader for advancing Women in Science, Technology, Engineering, Math, Manufacturing and Design – what the Company calls WiSTEM2D careers. In its 5th year, the WiSTEM2D it is a high intensity programme reaching over 150 undergraduate women to date in University of Limerick, more recently in University College Cork and this year we have extended the programme to NUI Galway. The aim is to expose young women to the endless possibilities of a career in STEM by providing the participants with 1:1 mentors, visits to our sites, career workshops and the potential for a long term career opportunity.  
We have a strong culture of championing Diversity, Equity, and Inclusion ("DEI"). This year the Johnson & Johnson Vision Care Ireland team was recognised amongst the 12 winners at the third annual, company-wide, Johnson & Johnson DEI Honors Ceremony. We were awarded a DEI Honor for Building our Diverse Workforce – in acknowledgment of our work to build a more diverse and inclusive technician workforce in Ireland. In a very short space of time, the Johnson & Johnson Vision Care Ireland Apprentice Program has achieved remarkable results, developing new learning programs and is growing from strength to strength each year.
Climate change is an important issue for J&J. What initiatives is the corporation involved with in this area globally and locally?
As a leader in the healthcare industry, Johnson & Johnson knows that human health is inextricably linked to the health of the planet. Put simply, healthy people need a healthy planet.
Johnson & Johnson began setting public climate goals twenty years ago and our new climate commitments are our boldest and most ambitious yet. Building on our strong history of climate action, by 2030 we aim to achieve carbon neutrality in our operations. To help meet this goal, we are aggressively accelerating our target for 100% renewable electricity throughout our global operations by 2025. In addition, we are committing to work with our suppliers to reduce our upstream carbon footprint by 20% by 2030. This work will deliver almost 2.5 times the carbon footprint reduction compared to our own operations  
When I look at our operations in Ireland and how we have been tackling the climate crisis, we have already led some pioneering efforts and made considerable investments to ensure that our businesses have been operating in an environmentally sustainable way. 
Our sites in Ireland have invested over €60 million in more than 80 carbon footprint reduction projects over the past decade. 
The Johnson & Johnson Vision Care Ireland site, for example, is committed to environmentally sustainable operations. The site has earned ISO 14001 and ISO 50001 certifications and driven consistent reductions in product resource intensity. The site uses 100% wind power, and part of the facility's electricity demand is met by an onsite turbine. This is just one of the four wind turbines at Irish sites which support onsite renewable energy generation efforts.
We recently announced that we have entered into a corporate power purchase agreement (PPA). The eight-year commercial agreement, allied with Johnson & Johnson's recent execution of three separate virtual power purchase agreements (VPPAs) in Europe, will ensure that the company's operations in Ireland will be powered by electricity from 100% renewable sources.  
Over the lifetime of the agreement, Ørsted, which operates onshore windfarms across Ireland, will supply Johnson & Johnson with more than 1TWh of renewable energy from two wind farms located in Kilgarvan, Co. Kerry and Booltiagh Co. Clare. This amount of clean energy is equivalent to avoiding the carbon emissions from more than 136,759 cars on Irish roads, or the electricity consumption of powering 528.8 million smartphones, recycling 134,898 tonnes of waste instead of going to landfill or planting 6.6 million trees. Additionally, the long-term nature of this PPA makes it possible for Ørsted to invest in its development and repowering strategy to construct more renewable generation in the future.
I am proud that our team in Ireland has been able to reach our target of sourcing 100% of our electricity from renewable sources, but we are already focused on our next goal of achieving net-zero carbon emissions by 2030.
J&J is an active member of ICBE. Describe how it benefits from and contributes to this member organisation. 
The Irish Centre for Business Excellence is renowned for facilitating the sharing knowledge and providing support to Industry.  They have fostered a spirit of openness and a willingness to develop best practices and most importantly to pass these on to others.  We (in Johnson & Johnson) have found great value in our engagement, both directly and indirectly.  Networking events have been hugely beneficial to participants, as a continuous source of learning long after the events are over.  In particular, linking professionals across industry sectors to share and solve similar business issues is key.  
From the "Call for Support" e-mails to member organisations (when an individual member is seeking guidance/suggested approaches to individual issues) to site benchmarking visits, leading edge discussion seminars to Innovative new programme design and development, ICBE is leading the way in providing proactive approaches to enable business development.    
Johnson & Johnson Vision Care Ireland are proud to be active participants in the ICBE.