In what has been an extremely challenging year for the aviation sector, Shannon-based Atlantic Aviation Group is an ICBE member company that has demonstrated great resilience and fortitude and is very well positioned for future growth when the recovery takes place. The company is no stranger to change having been through a number of owners and rebrands since it was established in the 1960s as Shannon Repair Services, a subsidiary of Aer Lingus.
Following a period of significant losses, the business was taken over by investor Patrick Jordan in 2015 and a new strategic plan was developed. People and culture was at the heart of this and has helped drive the turnaround of the company.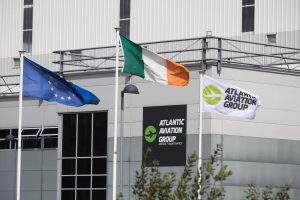 "There had been too much change and staff were genuinely worried about their future. We focussed on building confidence and a feeling of ambition" says CEO Shane O' Neill, who joined at that time as Chief Operating Officer.
An on-going programme of investment at the company has seen significant growth and innovation as the company has built on its traditional maintain, repair and overhaul (MRO) base to develop a range of complimentary business activities ranging from education and training to design and consultancy. 
This has been underpinned by a programme of continuous professional development and improving terms and conditions for the company's 350 staff.
A renewed focus on superior customer experience has seen Atlantic Aviation Group's business grow in recent years. The company lists leading airlines, operators, leasing companies, MROs and manufacturers amongst its client base, servicing a wide range of maintenance, technical and airworthiness requirements.
Drawing on its technical experience and with access to aircraft and experts in its hangar, the company's design services staff can offer approval, for example, to minor changes to cabin interiors and avionics systems on large aircraft including Airbus, Boeing, Embraer, Fokker, ATR and Bombardier.
"Over the last five years we have unlocked the potential of our people and created a climate where people are encouraged to challenge the way things are done and to find better solutions where possible," says O' Neill.
The MRO industry is traditional paperwork-heavy, he explains, and technicians are finding ways in which digital processes can be incorporated, subject to regulatory approval. A recent example, he cites, involves fitting a sensor to a plane to measure humidity level so that it can be monitored remotely. Previously, this would have involved numerous trips out to the aircraft on the tarmac.
The company has a long history in providing education and training in aircraft maintenance and this has been ramped up with the development of the Atlantic Aviation Institute. This provides certified training programmes for both internal and external candidates in both general maintenance areas and in specific aircraft models. 
Organic growth at Atlantic Aviation Group has been matched by acquisition, most notably in 2020 with the purchase of UK-based AAG Defence Services, which provides maintenance for the RAF's fleet of A400M Atlas aircraft at Brize Norton. 
Partnering with the wider industry sector has been an important part of the development of Atlantic Aviation Group. It has been an enthusiastic member of both Aviation Skillnet and ICBE. It has hosted site visits and visited other member firms and has participated actively in webinars and the 'Call for Support' programme.
Understandably, The Covid-19 pandemic has had a huge effect on the business, with civilian aircraft movements severely curtailed since March 2020 but O' Neill says that the diversified nature of the business has been helpful, and he is confident that Atlantic Aviation Group can expand significantly in the years ahead.