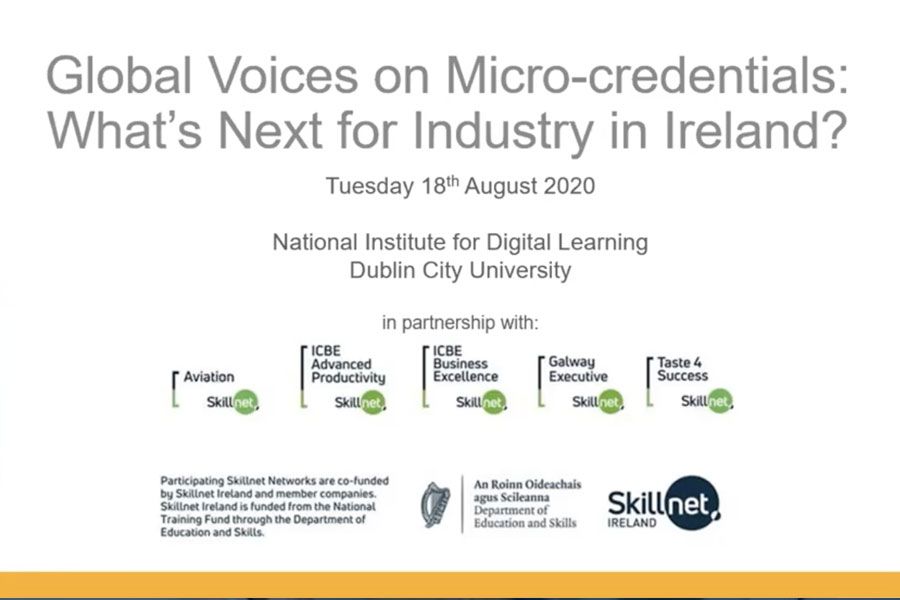 Global Voices on Micro-Credentials: What's Next for Ireland – WEBINAR
Last month, the first National Micro-Credential Survey was undertaken in Ireland by the National Institute of Digital Learning (NIDL) at Dublin City University (DCU).
Over 55 employers and 150 employees from across the country shared their thoughts on micro-credentials.
In this webinar, a panel of global leaders discusses the results of this survey, and contextualise them with global trends in this space.
Panel speakers: Professor Beverley Oliver, Education Change Leader (Australia) & Tara Rodoni, Qalibrates & Sage Education Marketing, Dr.Mairéad Nic Giolla Mhichíl is currently an Associate Professor and Senior Research Fellow with the NIDL and Director of the NIDL, Professor Mark Brown.
Five Skillnet Networks are jointly sponsoring a Feasibility/Research Project on Micro-Credentials – Making Learning Visible.
This project includes an Insights Paper "Micro-Credentials: An Evolving Eco System" (available below)
plus the first National Survey of Perspectives of Employees and Employers on Micro-Credentials,
which will be used to inform this Research Project.