Big Congrats to Skillnet Ireland and all the Skillnet Learning Networks around the country!
Through our three Skillnet Networks, the Irish Centre for Business Excellence is delighted to be able to respond to our members' needs with speed, agility and impact.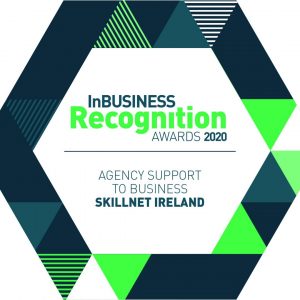 Skillnet Ireland has been announced winners of the 'Best Agency Support to Business' award at the 2020 InBusiness Recognition awards. This marks the third consecutive year in which Skillnet Ireland has been recognised for its work with the business community as recipients of this prestigious award at the Chambers Ireland event.
The InBusiness Recognition Awards, which were held virtually for the first time this year, aim to celebrate successes, achievements and ambition within Irish business.
In receiving the award, Chief Executive of Skillnet Ireland Paul Healy said: "It is a great pleasure for me to accept this InBusiness award on behalf of Skillnet Ireland. 2020 has been a year like no other and one we will all remember for a long time to come."
"For us at Skillnet Ireland, for our enterprise partners and for the businesses and workers we support, it's been a challenging year, but one in which we were able to respond with speed, agility and impact, to make a big difference to the businesses we support and to the lives of the workers who are employed in these businesses."
"I'd like to dedicate this award to our partners, to the 70 enterprise groups we work with, to the 700 people that serve on Skillnet Ireland steering groups across the length and breadth of the country, to the network managers and promoters, and to our own team at Skillnet Ireland."
Skillnet Ireland is committed to promoting enterprise-led workforce development that advances the competitiveness, productivity, and innovation of Irish-based businesses.
Leading a partnership of 57 enterprise bodies, Skillnet Ireland helps more than 18,000 businesses and 70,000 workers innovate and upskill every year.
By working with businesses of all sizes to identify and effectively address their skills and learning needs, Skillnet Ireland puts enterprise in control of the process, fostering a networked and partnership-based approach that leverages Ireland's uniquely open culture of collaboration.