ICBE's Digital Transformation Summit in March featured a diverse and interesting range of perspective from across industry sectors in Ireland and abroad. The event was attended by 190 participants and was moderated by ICBE board member and communications specialist Anton Savage.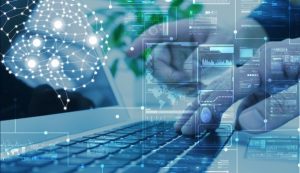 Welcoming delegates and setting the scene for the day, ICBE Managing Director Eamonn Murphy noted the speed of change in the business landscape which is being accelerated by globalisation, digitalisation and matrix management. 
Collaboration was the only antidote we have to these powerful changes. Speaking about the role of ICBE and its members, he said that while Covid-19 had accelerated change he "deeply believed that we have the capacity, capability and commitment to help manage this steep incline."
In a keynote presentation, former Formula 1 team specialist Mark Gallagher gave a fascinating presentation on how the motor sport has been on a digital transformation journey since the 1990s, which has accelerated in recent years. Much of what those working in Formula 1 it have learned is applicable for others in a diverse range of industries, was one of his key takeaways. 
In its early years, Formula 1's innovations came mainly from the aerospace field but IT now lies at the core of the sport, driving the optimisation of performance and minimising risks.  
A typical Formula 1 team has around 1,000 full-time staff and every aspect of the car, including the driver, form part of a digital network controlled and optimised by a team of engineers, he explained. Having a clever driver like Lewis Hamilton sit in your car is the equivalent of plugging a piece of software in, as he will leverage the knowledge of the vast team behind him to optimise a result that can be virtually predicted from the vast amounts of data available to the team.
Formula One has embraced learning opportunities from other sectors and industries, he noted, and conversely has leveraged its own knowledge to generate fresh revenue streams in related sectors. 
Formula 1 teams, he explained, have transferred their knowledge to develop customer solutions in sectors such as the wider auto industry, public transport and even chilling and refrigeration. In the early days of the Covod-19 pandemic, Formula 1 teams were involved in reverse engineering technology solutions for building ventilators, he added.
All of this capability is built on a highly sophisticated, networked digital platform, he emphasised.
While rapid advances in technology have enabled extraordinary advances, Mark also addressed the importance of the human dimension in achieving digital transformation success. His experience with Formula 1 teams was that, when things did not work, they did not focus on blaming people, instead they focussed on solving the problem. 
Having a healthy culture in your team is extremely important. Mandatory town hall meetings are common in many Formula 1 teams. As in other sports, marginal gains are extremely important in world class motor racing and having a team working in concert at optimum levels of performance is what defines success or failure in this highly competitive industry.
Continuous journey
Earlier in the day, Laurent-Pierre Baculard of Bain & Company presented statistics outlining the challenges facing those involved in business transformation. Most fail to deliver on their objectives, with only 16% of all transformations succeeding, with 65% achieving mixed results. In digital transformation, the picture is far worse, with only 4% truly delivering on all objectives and 27% partially successful. A staggering 69% settled for dilution of value or mediocre performance.
Organisations need to step-back and think about the fundamentals before diving into digital transformation initiatives he said. It was important to know where you actually want to go before starting these journey. Business models needed to address customer needs and the key enablers such as; systems and technology; operating models and partnerships; talent and culture. 
You need to pay attention to what is happening in the marketplace, even at the level of weak signals from start-ups and venture capitalists, and adjust your approach, he advised. Pay attention to your customers and potential customers. What are their pain points? What untapped assets do you have that you can mobilise? What data is available to you and what are you doing to leverage it?
Research has shown that Covid-19 has changed the priorities of business leaders, he noted. Where automation and robotics were once the key priorities, now business resilience and minimising risk were seen as more important strategic objective than lowering.
CMX Change
The Summit also included a number of very interesting case studies including one from Dell, with inputs from Dell's Denis Kelly and Richard Fitzgerald and Murali Krishnan from Sprikler, a strategic partner of Dell. This case study described a major customer experience transformation programme undertaken by Dell.
This was undertaken against the background of a huge shift towards customer engagement via web platforms rather than traditional customer support such as telephone. Some 67% of customers use social sites for support issues, we learned. The presentation outlined amongst other things, how customer support integrates robotics to handle simple customer issues freeing up agents for more added value supports.
The Summit features two parallel tracks on innovation. The first of these on innovation and leadership included inputs from Kevin Robinson, MD of Opex Performance Solutions, Derval Kennedy, Managing Director of StratrAdept and Jerry Shanahan, Doctoral Researcher from UCC, chaired by Deirdre Hynes of Grianan Ltd. An innovation in action session, meanwhile, chaired by James Herbert of Boston Scientific including presentations from Andrew O' Reilly of Deloitte Ireland, Alex McDonnell of Expertivity Solutions and Tina O' Donnell of Seagate.
ICBE Chairman Kieran Noonan drew together some of the key themes at the end of the day. A recurring theme he said was the sheer scale of change and the inevitability of that change and how every industry was being affected very significantly. In meeting this challenge we need to focus on leadership, people, communications, systems and behaviours.
"This is a bigger version of change than any of us have every experienced before. The key to this lies in listening, collaborating, learning and development and engaging people in change, so we engage people in joint action to win together."
The entire recorded proceeding of the event can be access: