Aviation Update Series 2022 – Global overview of the Aviation sector challenges & opportunities
Back to All Events
Date:

3 Mar 2022

Duration:

03/03/22

Time:

1:00 pm to 2:00 pm

Location:

Webinar

Cost:

Free
Aviation Update Series 2022
55 Minute FREE Session (plus quick Q&A)
 A global overview of the Aviation sector challenges & opportunities 2022
Presented By
John McMahon

&

Brian Hayden 
Overview
Booster rollout and unexpected lifting of 80% Covid safety measures, move to acceptance to living with Covid
Path to recovery more optimistic
Funding available for new lessors and strongest airlines/lessors
Many sustainability projects in place
Potential changes to Airline structures and leasing companies
Forward Look at ABS market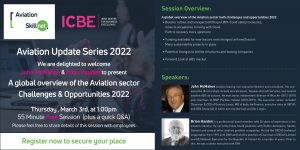 Presenters:
John McMahon aviation leasing non-executive director and consultant.
His non-executive directorships include aircraft lessor, Genesis Aircraft Services, and several aviation ABS structures.
He was senior independent director of Wizz Air (2012-2018) and chairman of BNP Paribas Ireland (2010-2019).
His executive career included Chairman & CEO of Genesis Lease, MD of debis AirFinance, executive roles at GECAS and GPA Group (all of which are now AerCap) and Aer Lingus.
Brian Hayden is a professional board member with some 50 years of experience in the aviation industry.
He led the GECAS technical organization from 1993 until 2008 and was chairman of GECAS Limited as well as GE national executive for the Republic of Ireland for a number of years. Prior to this, he was a senior executive with Guinness Peat Aviation and also spent many years with Aer Lingus.
He currently holds board positions with Dublin Aerospace, Santos Dumont and several other aviation portfolio companies. Mr Hayden holds an MBA from University College Dublin, as well as a Diploma in Engineering and an MSc from Trinity College Dublin. He is a Fellow of Engineers Ireland and lectures at the University of Limerick