ICBE in association with Harvard Business Review Press – Autumn Series of Global Business Experts & Authors
Back to All Events
Date:

28 Sep 2022

Duration:

9:00 am to 10:00 am

Time:

9:00 am to 10:00 am

Location:

online
The Irish Centre for Business Excellence is delighted to continue the very popular series of world -renowned business experts and authors in association with  Harvard Business Review Press
This new series will bring you global expertise on the most pressing challenges and opportunities facing organisations today. 
Member rate: €75pp(non-member €95pp) per session.   Book All 3 sessions for €180pp (non member rate €220pp)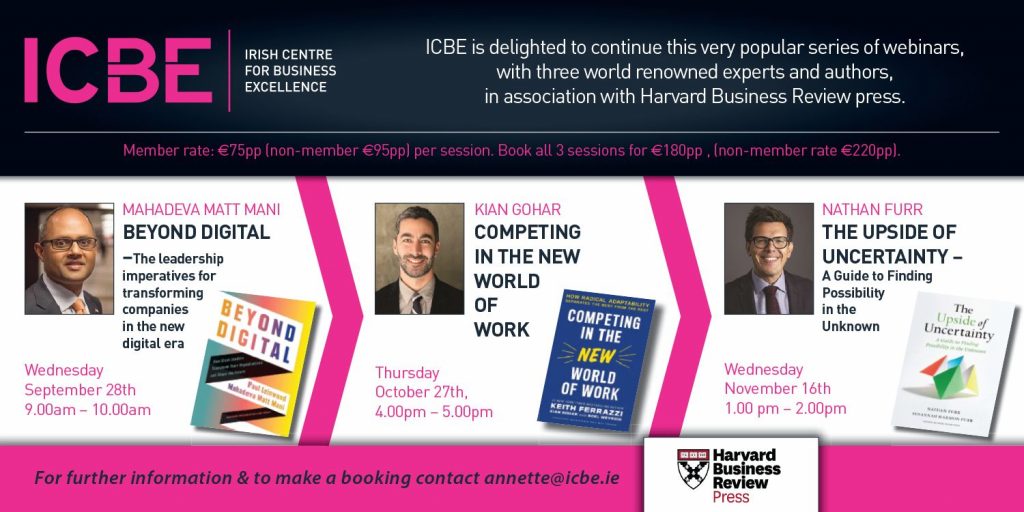 To book your place(s) please email annette@icbe.ie
About the Authors: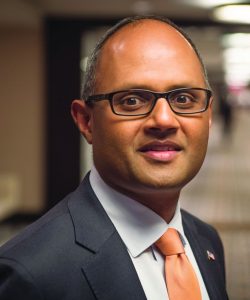 Beyond Digital - The leadership imperatives for transforming companies in the new digital era - Mahadeva Matt Mani
September 28th - 9AM to10AM
Digital transformation is critical. But winning in today's world requires more than digitisation. It requires understanding that the nature of competitive advantage has shifted—and that being digital is not enough.
In their acclaimed book - Beyond Digital, world-renowned strategists Mahadeva Matt Mani and Paul Leinwand present the stories of twelve companies from across the world - Phillips, Hitachi, Titan, Eli Lilly, Citigroup, Adobe, Komatsu, Honeywell, Microsoft, Cleveland Clinic, Inditex, and STC Pay - that have navigated through this monumental shift.
Beyond Digital outlines seven imperatives for leaders to follow as the digital age continues to evolve and Mahadeva Matt Mani joins us to present the book's key insights.
Mahadeva Matt Mani is an adviser to executives on organization cost and productivity transformation for Strategy and one of the global leaders of PwC's Fit for Growth performance platform.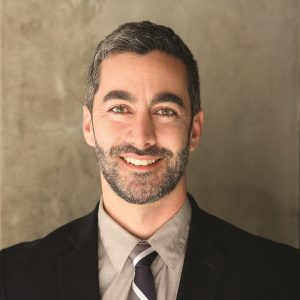 Competing in the new world of Work - Kian Gohar
October 27th - 4PM to 5PM
In Competing in the New World of Work, bestselling author Keith Ferrazzi, and coauthors Kian Gohar and Noel Weyrich, show leaders how to shape their organisations and practices to remain competitive in a new, post-pandemic context.
Based on an ambitious global research initiative involving thousands of executives, innovators, and changemakers who redefined their strategies, business models, organizational systems, and even their cultures.
Kian Gohar will join us to share the success strategies of some of the most astute organisations in the world and will:
Offer a bold new vision for the organization of the future
Reveal the workplace innovations that emerged during the pandemic
Define the new model of leadership—radical adaptability—for sustaining continuous change throughout the coming years of opportunity and transformation
This event will offer inspiration and your road map to embracing new realities, motivating talent, and winning.
Kian Gohar inspires the world's leading organisations to harness innovation to solve complex problems. A former executive director of the XPRIZE Foundation and Singularity University, Kian has coached the leadership teams of the world's leading companies. He is a sought-after public speaker on innovation.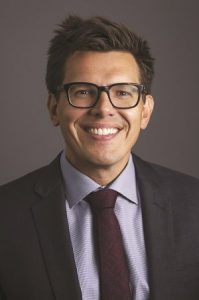 The Upside of Uncertainty - A Guide to Finding Possibility in the unknown - Nathan Furr 
November 16th - 1PM to 2PM
For most of us, uncertainty causes fear, suspicion, and stress. But without it—change and innovation rarely happen. According to INSEAD professor Nathan Furr, and entrepreneur Susannah Harmon Furr, the only way to get to the possibilities we dream about is to embrace the unknown.
For their new book, The Upside of Uncertainty, Nathan and Susannah drew on hundreds of interviews, as well as pioneering research in psychology, innovation, and behavioral economics, to develop a set of practical tools that will help us all optimise the uncertainty that characterises our lives.
In this webinar Nathan presents the thinking behind their model for "finding possibility in the unknown" and will walk us through some of the practical approaches that have proved most useful in the many innovation workshops and engagements they have led, helping people turn uncertainty into a force for good.
Nathan Furr is a professor of strategy and innovation at INSEAD in Paris and an expert in innovation and technology strategy. He is widely published and works with leading companies including Google, Microsoft, Citi, ING, and Philips. 
To book your place(s) please email annette@icbe.ie