Date:

8 Nov 2022

Time:

9:00 am to 5:00 pm

Location:

online
NEW DATES
Tues/Weds 8/9 November - Mon/Tues 5/6 December - Tues/Weds 17/18 January 2023
 6 days (9am - 5pm)
Members €1,250 - Non-Members €1,875 per person
with 50%+ Skillnet Funding Applied
Special offer for Small and Medium-Sized Enterprises (less than 250 employees)
As your career develops, having the core management skills needed for each and every stage is key to your success.
This programme's for you if: You are a developing manager with at least six months' experience.
This programme will set you on the path to high performance by building on your existing management expertise and developing
new competencies such as planning, problem-solving and decision-making
Contact  alison@icbe.ie to book your place/s
Places are limited
This highly interactive six-day programme is designed to enhance your existing management skills & will help you develop new competencies within a framework of identified essential skills.
This programme is comprised of 6 full days divided into 3 modules of 2 consecutive days each:
Excel Learn a variety of management tools and techniques
Perform Discover how to design strategies for increased employee performance
Deliver Find out how to foster an environment of creativity and innovation.
Essential Skills of Management is one of IMI's most popular management development programmes.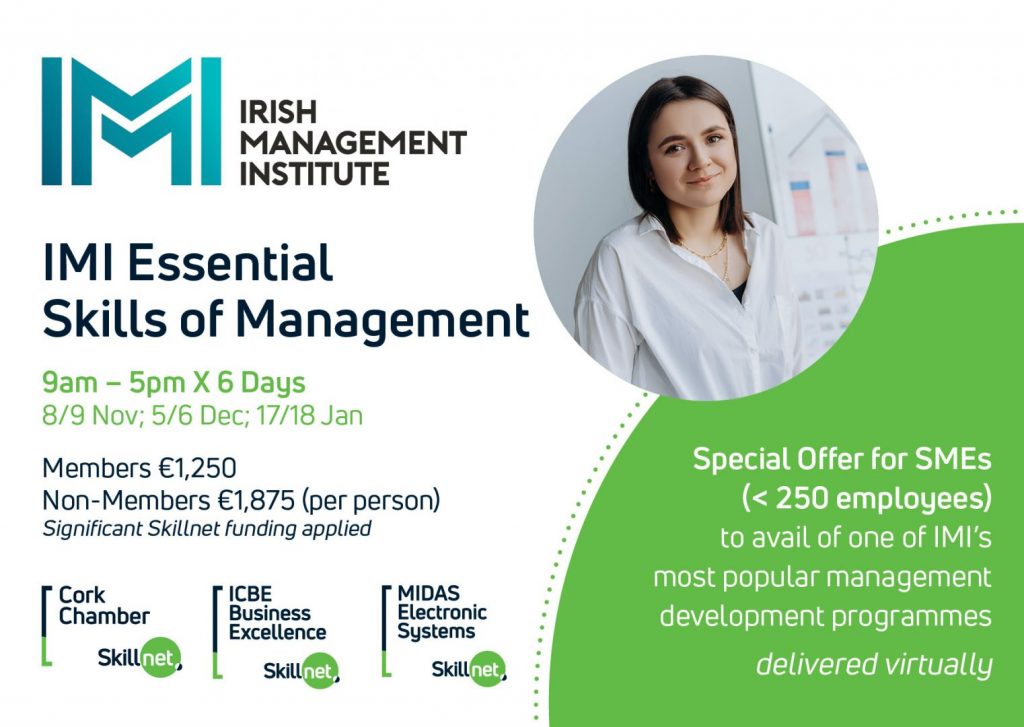 Schedule
Module 1 (November 8th & 9th): Understanding your Role and Context
• Remote working and leading
• The role of the manager
• Listening skills
• Your development planning
• Management behaviours
• Essential steps of planning
• Goal and objective setting
• Problem solving
• Responses to Conflict
Module 2 (December 5th & 6th): Aligning Goals & Resources
• Influencing
• Delegation
• Flexible Management
• Introduction to Belbin
• Belbin Team roles
• Motivation
• Building blocks of successful teams
• Building trust
• Team stages & high performing teams
Module 3 (January 17th & 18th): Building an enabling culture
• DiSC Profile – understanding self
• DiSC Profile – understanding others
• Performance management & effective feedback
• Coaching skills for managers
• Managing different performance conversations
• Pulling it all together
Learning Outcomes
Module 1
• Define the role of the Manager
• Apply listening techniques
• Diagnose business environment
• Develop Stakeholder maps
• Apply planning techniques
• Set effective goals
• Solve problems effectively
• Manage through conflict
Module 2
• Understand influencing styles
• Align resources
• Delegate tasks effectively
• Empower team members
• Build trust
• Enhance motivation
• Develop teams
• Manage team dynamics
Module 3
• Deliver effective feedback
• Identify leadership styles
• Understand personal behaviour
• Diagnose behaviour of others
• Apply a PMDS
• Coach for performance
• Manage performance
• Deliver appraisals
Fabio Grassi has over 17,000 hours of training design and delivery, and over 1500 hours executive coaching, with a client satisfaction rating of 94%. His focus is to architect tailored organisational development interventions to transform talent into real business growth and return on investment. His passion is to help executives and managers to achieve specific business outcomes by developing their team's performance, collaboration and motivation.
Fabio is an associate faculty member with the IMI where he directs the IMI Diploma in Executive Coaching and delivers training in variety of customised programmes for organisations.
In 2009, Fabio facilitated one of the Economic Working Groups engaging the Irish Diaspora at the Global Irish Economic Forum. An IBM Global Sales School Graduate (with distinction) and the recipient of the 2001 IBM Winning Team Award, Fabio worked in IBM for 9 years in a variety of roles including Skill & Education Consultant for the ibm.com organisation, advising executive and management teams across Europe. Fabio's major interests are in Behavioural Science, Emotional Intelligence, Talent Development and Motivation, Coaching and Facilitation.
Cancellation Policy as per IMI Terms & Conditions
Registrants who cancel over one month in advance of scheduled training date shall incur no cancellation fee.
Registrants who cancel within one month of scheduled training date shall incur a cancellation fee equal to 100% of the cost.
If registrant cannot attend they may nominate a participant to take their place.