Date:

17 Nov 2022

Time:

9:00 am to 12:00 pm

Location:

online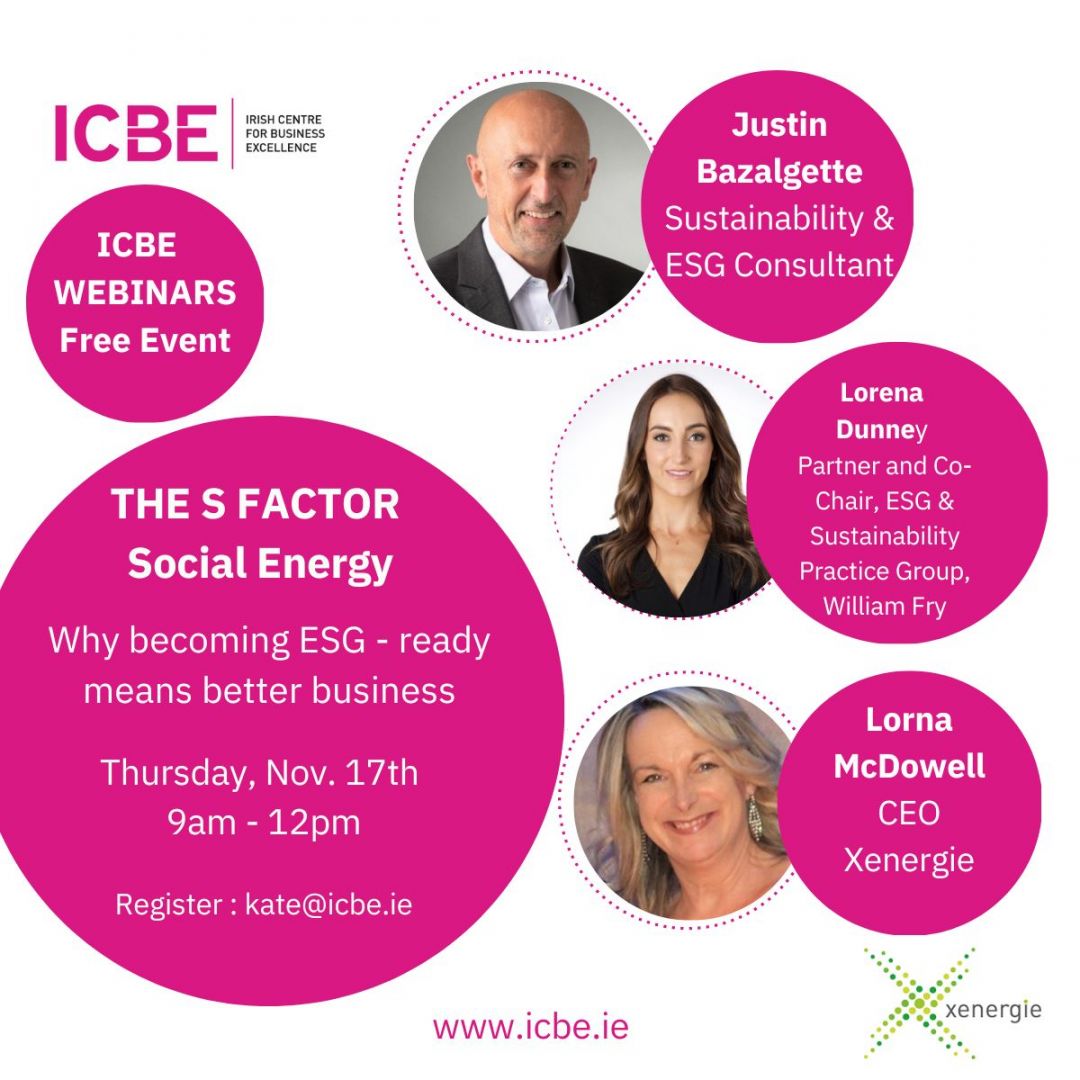 Until now, ESG and sustainability has largely been considered through an environmental lens, but the wider lens is that of the 'social energy' and governance of an organisation, broadly described as valency of the people –customers, staff, shareholders, communities, supply chain and other partners - generated by their diverse needs and the energy they bring and release to each other in their work and collaboration with each other.
Join Xenergie, ICBE & guests to learn more about about this important topic.
Who should attend this event?
ESG compliance requires a whole organisation approach in which learning and development is key.  This is not just the domain of the Sustainability Officer, it requires a cross-functional approach led from the top and reaching all, leaving no one behind.
This event is aimed at senior organisation leaders & managers in:
HR
Sustainability
Change Mgt
ESG related functions
Legal/Regulatory Affairs
What you will learn?
What will the EU Taxonomy (a new framework for sustainability that applies to companies - to be introduced in 2024) and other legislation mean for organisations and the timescales involved.
How working towards a socially-optimised organisation could mean much better business value and an opportunity to address unsustainable ways of working.
How to work robustly with the complexities, controversies and trade-offs.
How and when to begin preparing at all levels of your organisation with a practical, cost effective approach that builds your capability to evolve.
How to influence and lead this change in your organisation and integrate it with other change initiatives.
Hear from those who are already pioneering this rapidly growing field:
Justin Bazalgette has held various leadership roles within multi-national organisations in automotive, construction, services and financial sectors, developing and leading cross-functional corporate governance and sustainability initiatives, supporting the needs of shareholders and wider stakeholders.
Lorena Dunne, Partner and Co-Chair, ESG & Sustainability Practice Group, William Frys extensive experience in advising a range of leading international asset managers on a range of matters and developed a particular expertise in advising on EU Sustainable Finance regulation.  Lorena is Vice Chair of the Irish Funds ESG Policy, Legal and Regulatory Working Group and Irish Funds' representative on the International Investment Funds Association (IIFA) ESG Working Committee.
Lorna McDowell, CEO Xenergie, is a an ESG strategy and governance advisor, focusing on the "social domain", helping organisations to get their strategy and people on their journey to being future fit and more resilient both in economic and psychological terms.  She is also facilitator of the National Stakeholder Forum for the Sustainability Goals.