Date:

12 Sep 2022

Time:

9:00 am to 5:00 pm

Location:

online
Monday, September 12th to Friday, September 16th
Members €1,050 ; Non-Members €1,575 (per person)
with 50%+ Skillnet Funding Applied
Special offer for Small and Medium-Sized Enterprises (less than 250 employees)
Expand your knowledge across the breadth of your organisation
Broaden your knowledge of your business and further develop the skills required for leadership positions
Contact grainne@icbe.ie to reserve your place/s
Places are limited
This IMI Management Bootcamp is comprised of an intensive five-day programme covering the business essentials of:
Strategy
Leadership
Finance
Marketing
People performance
Designed to give you a thorough framework of knowledge for making informed business decisions - this intensive 5-day format is designed to give you the maximum impact in a limited time away from work.  The format and design create a supportive environment where participants learn from peers and subject matter experts.
You will participate in workshops, examine case studies, conduct class discussions and work in groups to ensure that the week is as
rewarding – and as challenging – as it is insightful. 
This programme is designed to build on your existing management competencies by giving you a comprehensive understanding of all the functions of an organisation, by highly respected experts in each function.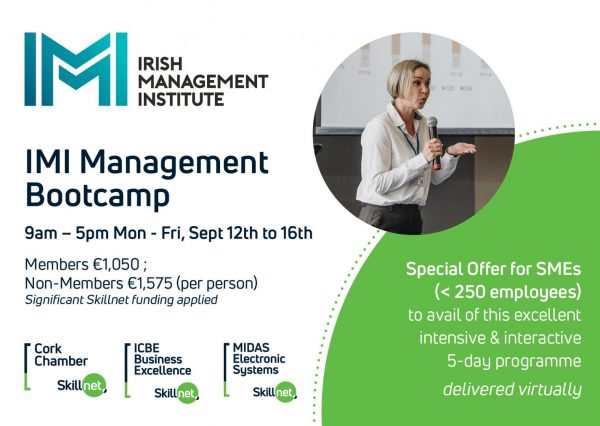 Learning outcomes
At the end of this course, participants will have a deeper understanding of organisational strategy, and how it is supported by finance and marketing and executed by effective leadership. Participants will have learned about their own leadership style and capabilities, and how they can impact performance and operations in their organisation.
Who is the course for?
This programme is ideal for participants with considerable specialist management experience in one area of their business and who want exposure to others. It's also ideal for professionals aspiring to positions of greater responsibility and for experienced managers looking to widen their understanding of difference business functions.
Schedule
Day 1: Marketing
• Marketing and Value Factor
• Factors that drive and influence development of marketing structures
• The Value Proposition Canvas
• Segmentation
• The power of branding
Day 2: Strategy
• What is strategy?
• What is a PESTEL?
• Five Forces – assess the key competitive factors that are important to understanding the position of both your company and industry
• Stakeholder mapping
• Strategy mapping – how best to track success of your strategy
Day 3: Finance
• The balance sheet
• The income statement
• Preparing financial statements
• Reading the cash flow statement
• Ratio analysis and the pitfalls/limitations to be aware of
• Beyond the numbers
Day 4: Strategic HRM
• Strategic HRM: the context
• Design of the organisation & operating model
• Performance & Reward
• Engagement
Day 5: Leadership
• Identify what leadership means in your organisation
• Understand the importance of Emotional Intelligence
• Gain awareness and reflect on your own leadership style, values and personal brand
• Understand a leader's role in change
• Identify actions to take to grow your effectiveness as a leader
Marketing – Helen O'Leary is a mentor and executive trainer in marketing and leadership development specialising in delivering top line revenue generation and methods to support the marketing and sales functions. Helen lectures in leadership on the MA programme at TU Dublin and is a Sales and Marketing lecturer and mentor at Kingston University London. She has developed a wealth of international sales and marketing expertise while working for almost 20 years throughout North America, the UK, Europe and the Middle East.
Strategy – Jonathan Westrup has been the IMI Programme Director of the Professional Diploma in Strategy & Innovation since 2010 and his associate expertise is in business strategy with a particular interest in corporate governance and organisational performance. Jonathan also works with management teams in facilitating their strategy process.
Finance – Mark James  lectures in the business department of the Cork Institute of Technology,  Griffith College, DIFC College, and the Irish Management Institute, teaching a range of modules including Financial Accounting, Micro and Macro Economics, Technology in Accounting and Finance, and Regulatory Management. Mark has experience as a Director on the Board of a national financial institution, overseeing international investments, information technology projects, regulatory policy development, and the creation of a five-year strategic plan. He has also provided training and consultancy services to SME's. This broad range of business and lecturing experience allows Mark to ensure that the theory he teaches is grounded in practical real-world situations and problem solving.
Strategic HRM – Jane Mitchell is a leadership and organisational development consultant with 15 years' experience working with diverse groups across many cultures. Her approach is positively challenging, centred on creating clarity, developing opportunity and delivering impact through tangible business results.
Leadership – Kevin Quigley has been involved in learning, leadership & management development, technology and innovation for the past 30 years. He is an associate member of the IMI specialising in Leadership Development, Leading Change and Change Management.