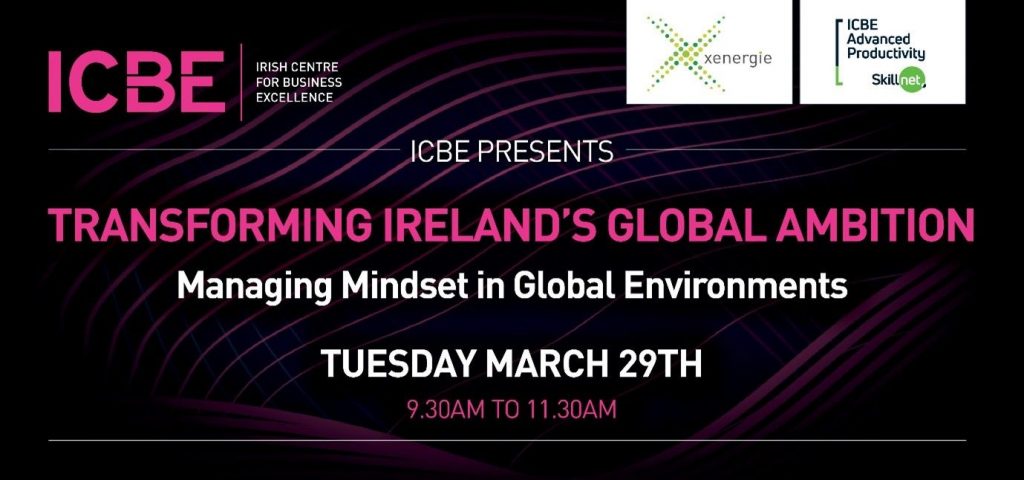 ICBE in conjunction with Xenergie Consulting will be hosting the second in a series of events on the
Transformation of Ireland's Global Ambition on the 29th March 2022.
The theme of this event is Mindset Shift, discussing the thinking skills that Irish companies both indigenous and FDI require to navigate the landscape of Transformation Complexity, particularly in global environments.
Leaders are facing unprecedented disruption, uncertainty and resource challenges. There is a need to achieve better, measurable outcomes. This requires guidance, support and enablement of new mindsets, capabilities and behaviours to thrive in the emerging post-digital, post-pandemic environment. This conference will outline how three experts approached and continue to approach this ongoing challenge.
Key Learning Outcomes
Practical learning of looking at your challenges in a different and connected way.
Ideas to help you create cultures, teams and leaders with the capabilities to adapt.
Develop your own thinking and leaders' capabilities not just to react but to lead change
Please share this email with the senior management team, departmental and functional managers in your organisation.
Speakers :
Valerie Gleeson – "The Importance of Trust"
Experience and Areas of Specialism:  Change Management
Valerie brings a wealth of Business, Finance, Technology and Transformation experience to the table and has been recognized by her teams and peers as a hugely supportive servant leader who places significant emphasis on people development.
She is recognized for her expertise is establishing new capabilities within organizations, ranging Finance Shared Services in the Netherlands, to leading global ERP implementations for Logitech and EMC as well as establishing PMO's and Agile Center of excellence.
She has led several high-profile complex change programs, including the Sale of Bord Gais Energy and leading the McKesson Global Technology Digital transformation.
Tony Keaveney – "How you can influence working from Ireland"
Experience and Areas of Specialism- Regulatory Affairs
Tony is responsible for leadership and strategy for international regulatory affairs, and sits on the Chief Regulatory Officer's senior leadership team in Merit Medical.
He brings a varied career in Medical Devices, where he has played several advisory roles in Quality, Regulatory and Medical Affairs in start-ups and leading organisations in the field including Aerogen, Boston Scientific, Tyco and Vysera.
Based in Galway, Tony's passion for learning, personal development and leadership has been a major influence on his evolution as a global influencer, and in recent years, stimulating him to transform his own approach, purpose and influence to bring about wider impact across the entire global regulatory organisation.
Michael Nicholls – "What the future holds"
Area of Specialisation- Retail Banking & Regulatory Change:
Michael is a proud member of the Irish diaspora and has c40 years in Financial Services, during which time he has worked as a Bank Employee (Bank of Ireland, Pictetet Cie), Technologist (Unisys, Tandem, Compaq, HP), Business Consultant (Sophron Partners - then part of McKinsey & Co, EY - Pillar Lead for Regulatory Reporting and  EPAM), as well as being retained as a Lawyer/Linguist at the ECB in Frankfurt.